Contract Bulletin 2017
The State of the Industry: Unprecedented Prosperity
Industry profits have risen to new heights.
The entertainment industry has never been more profitable. As illustrated in the chart below, in 2016 the six major media companies that dominate film and television, and employ almost all Guild writers (CBS, Comcast, Disney, Fox, Time Warner, and Viacom), reported almost $51 billion in operating profits. Those profits have doubled in the last decade and continue to grow.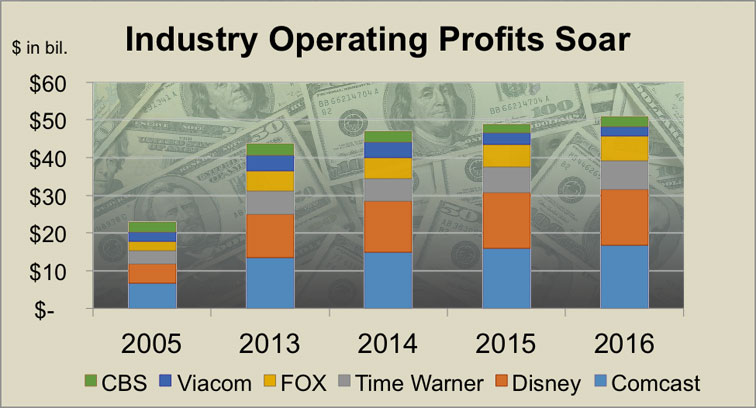 Source: Company Financial Reports
While industry executives may claim that times are tough because of cord-cutting, because there are too many series, or because of Netflix, the numbers tell the real story. And, by the way, this is the story the companies tell Wall Street and their investors. The $51 billion represents the collective profits of the six major media companies after deducting the direct costs of operations, but before the inclusion of non-operational items like taxes and interest. The information comes from public documents submitted by the companies to the Securities and Exchange Commission. It is a pure measure of how profitable company operations are after accounting for expenses.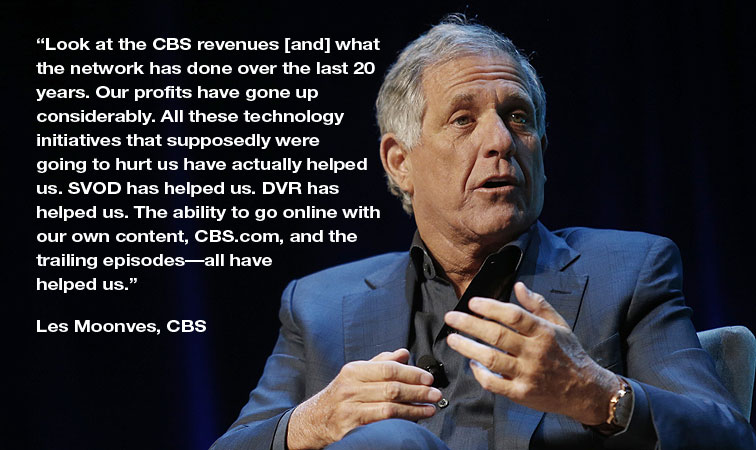 Photo: Bloomberg
These profits overwhelmingly come from television and film operations because over the last several years, the major media companies have embarked upon a process of sales, spinoffs, and acquisitions to transform from diversified conglomerates to entertainment-focused powerhouses.
Here are a few examples:
Time Warner spun off its cable distribution business, AOL and Time publishing. What is left is a pure media company with television and film segments.
Fox spun off its news business and book publishing to become focused on television and film.
CBS sold its international outdoor advertising business and spun off the US segment. It has also announced it will sell its radio business.
NBCU left General Electric to become part of Comcast, a media and cable giant. Recently NBCU purchased DreamWorks Animation.
Disney purchased Marvel Entertainment and LucasFilm.
These spinoffs have allowed the media companies to focus on their most lucrative operations—primarily film and television, segments which have doubled in profitability over the last decade. Although each of the companies does operate businesses which are not driven by the television and film product created by Guild members, we still estimate that a majority of the $51 billion is derived from the business lines that depend on WGA members. This excludes operating profits from sports and news networks like ESPN and Fox News, as well as theme parks, Disney merchandise, and Comcast's cable and Internet distribution business. After all that, more than 50 percent of profit comes from producing and distributing scripted television programming and feature films, particularly the television business.
PROFIT DRIVEN BY THE CONTENT WRITERS CREATE
A key driver of the industry's success has been the global growth of demand for American television series and feature films. For decades, US movies have been shown overseas, and popular TV series have made their way onto foreign television networks. However, the global growth of the middle class has produced rising incomes, creating billions of new and increasingly valuable consumers of American entertainment. American movies are in theaters around the world, sometimes even before US release. Primetime dramas are now seen by millions worldwide, often in the same week as their domestic premieres. And, with global online distributors like Netflix, and now Amazon, the market for content created by Guild members is truly the entire world.
Feature Films: The Global Box Office
The domestic box office is a key source of industry revenue, but the market is largely mature. This is because Americans have been moviegoers for decades. The story in much of the rest of the world, where going to the movies is a newer activity, is quite different. The film business has experienced an influx of customers thanks to rising incomes and theater construction globally. In the past decade, international box office has grown by almost 70 percent, from $16 billion in 2006 to $27 billion in 2016.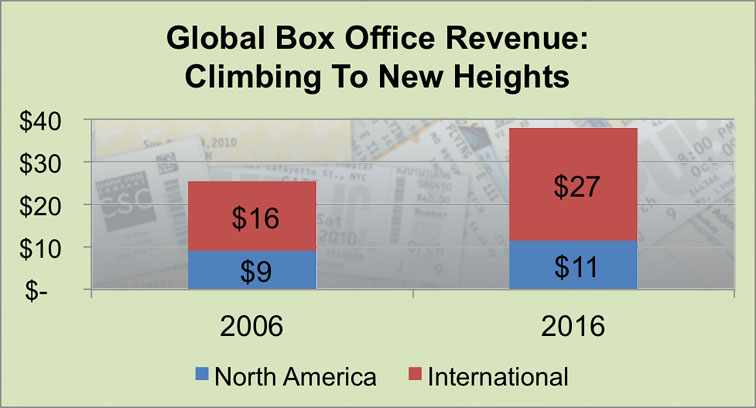 Source: MPAA
And American media companies have benefitted from this growth, dominating the global box office with films written by WGA members. Collectively, five companies—Disney, Fox, Paramount, Warner Bros., and Universal—account for almost 60 percent of the $38 billion worldwide box office.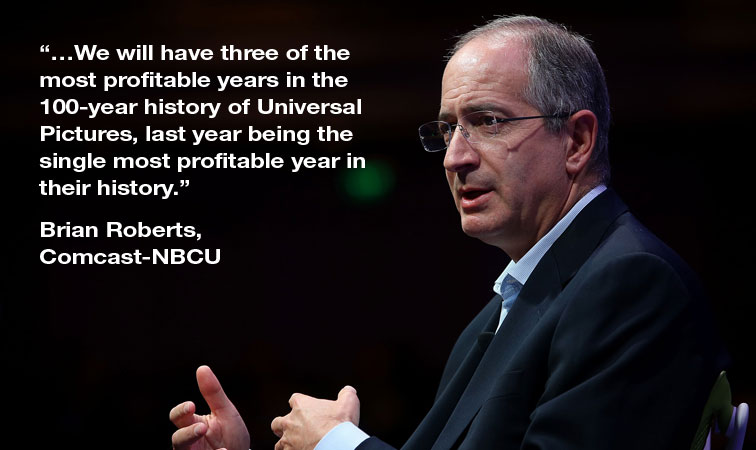 Photo: Justin Sullivan/Getty Images
Television: New Audiences Around the World
Cable television has been available in the US for almost four decades and, as a result, almost every household that wants one has a cable TV subscription. The media companies have profited from dominating the domestic television market. They have now exported this highly successful business model to the large and growing international television market, which includes 757 million subscription TV households and $250 billion in revenue outside the United States, according to the PricewaterhouseCoopers (PwC). PwC projects that the international market will add 100 million subscription TV households by 2020.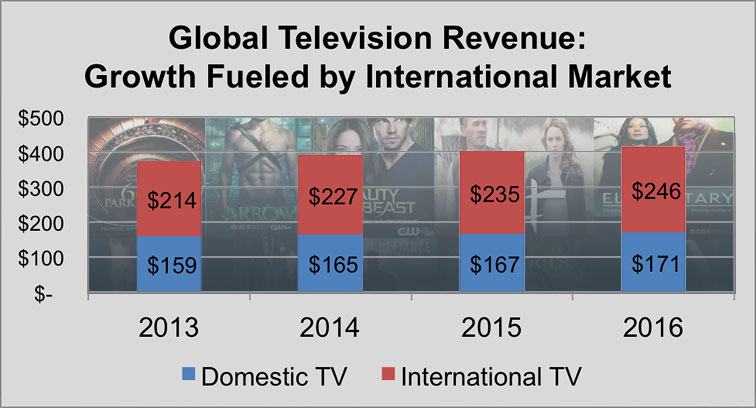 Source: PwC
Global expansion has come in two forms: exporting networks and exporting content.
Exporting Networks:
The Disney Channels include over 100 channels available in 34 languages and 163 countries/territories.
Time Warner reports that HBO and Cinemax have "approximately 82 million international premium pay, basic tier television service, and broadband-only subscribers."
Fox International Channels operate more than 300 networks distributed globally reaching 1.7 billion households worldwide.
Viacom reports that its media networks reach approximately 510 million households in 180 countries. Comedy Central reaches 264.5 million households worldwide, while MTV reaches 411.7 million and Nickelodeon reaches 474.1 million households.
Exporting Content:
American TV series are used to program the foreign networks of the media companies and are licensed to unaffiliated networks around the globe. The growth in this licensing business has been significant.
In 2005, roughly 3,000 episodes of Guild covered TV series were shown on foreign television networks.
By 2016 that number had increased seven-fold to 20,000 episodes airing on foreign television channels annually.
Foreign licensing is so lucrative that Warner Bros. began telling investors several years ago that the combination of domestic and international licensing fees exceeded production costs by 23 percent.
Here's a chart Warner Bros. has given investors: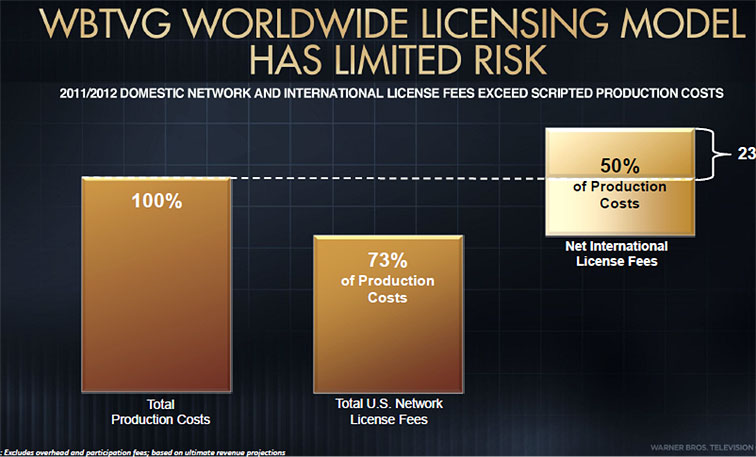 The result of all this, according to Wall Street firm Morgan Stanley, is $15 billion in annual revenue from foreign networks and content licensing for CBS, Disney, NBCU, Time Warner, and Viacom.
SVOD: Exponential Potential
Fueled primarily by the licensing of American television series and films, coupled with significant investment in original production, Subscription Video on Demand (SVOD) is the newest and fastest growing form of content distribution. Industry analyst SNL estimates that Amazon, Netflix, and Hulu spent almost $9 billion licensing and producing content in 2016. With revenue streams flowing from domestic and foreign sources, PwC estimates global SVOD revenues of more than $13 billion in 2016. Netflix already has 41 million international streaming subscribers and Wall Street firm MoffettNathanson expects this number to double by 2020. And in December 2016, a second major global SVOD player emerged on the scene when Amazon announced that its Prime Video service was expanding to 200 countries and territories. There is no apparent slowing of growth on the horizon in the SVOD market.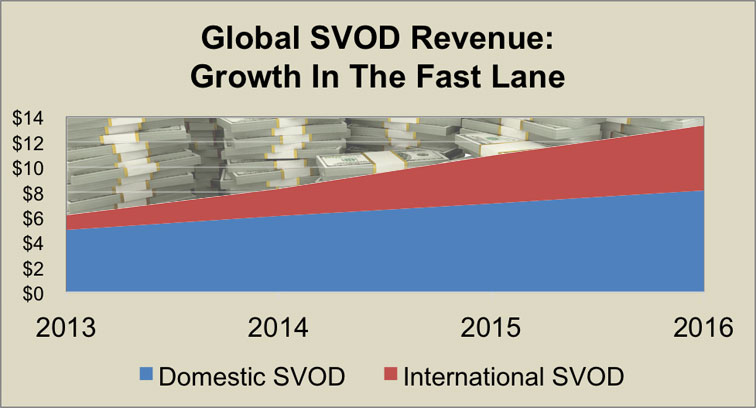 Source: PwC
The transformation of the business from primarily domestic to truly global, and the rise of subscription video on demand (SVOD) providers, has created the "peak TV" era we are living in. The transformation has also led to the rise of "risk free" television, where series, regardless of their domestic success, can be in profit from day one.
RISK FREE TV: THE NEW PARADIGM
In 2015, FX Networks CEO John Landgraf coined the term "peak TV," capturing a theme among some television critics, industry analysts, and network execs which claims that there is too much scripted programming. The assessment implied that the current level of original series on TV and online was unsustainable. To the contrary, while it is certainly true that the number of original comedy and drama series has doubled in the past decade, the growth has made perfect sense. With the on-demand availability of almost all content, the time constraints of primetime hours have been lifted. Viewers can now watch this content anytime, anywhere, and the companies have monetized this convenience. This structural change, combined with the extremely lucrative global expansion of distribution, has reduced the "syndicatable number" of episodes to 8—as opposed to the old number of 80—and transformed what used to be "deficit financing" into "instantly profitable."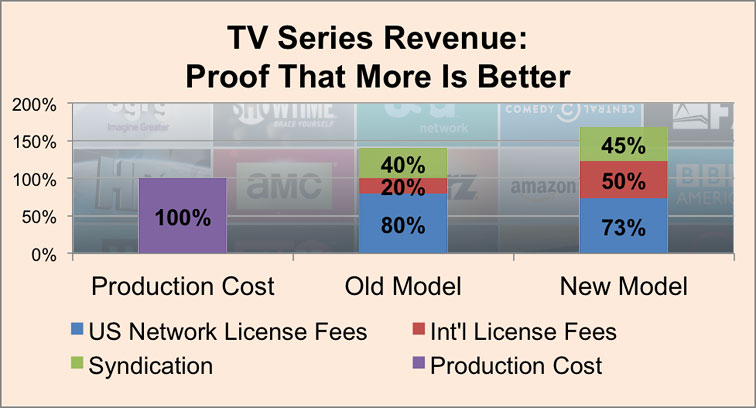 Source: Time Warner, WGAW and Wall Street Estimates
When an episode airs on television in the United States, it is often seen around the world that same week, or soon after. The media companies use series written by Guild members to fill thousands of hours of airtime on their international networks, and license to competing networks willing to pay large fees. Eighty-five to ninety percent of new comedies and dramas are licensed internationally in the first season—even series cancelled in the US. Network dramas can generate a million dollars or more in licensing fees, often earned in the first year or two, from this global exploitation. Executives at CBS and Lionsgate have even publicly stated that global distribution produces profits on day one.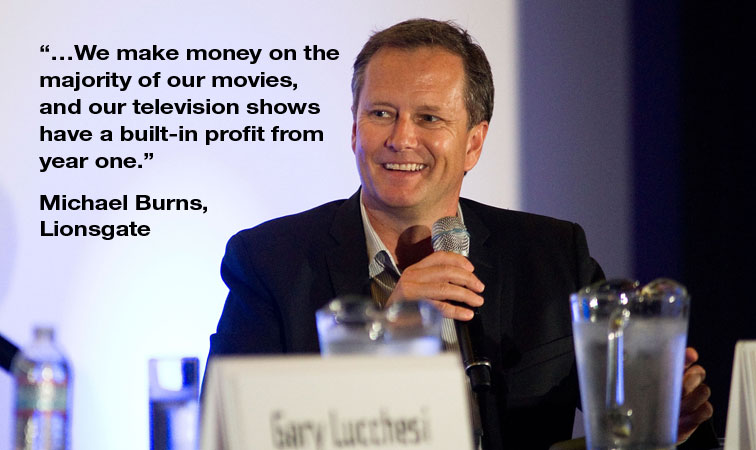 Photo: Jerod Harris/WireImage
At the same time, SVOD services, both in the US and increasingly abroad, have become major buyers of television content, licensing series within the season or immediately after. SNL estimates that Netflix, Amazon, and Hulu spent $7.6 billion licensing library content in 2016. Even though these services are investing in original content, acquisitions remain necessary to offer subscribers a broad range of content. SVOD services now regularly pay more than $1 million per episode to license one-hour dramas domestically, and multiples of that if they are licensing global rights. In the US, Netflix, Amazon, and Hulu have become major competitors for TV programming, which will continue to drive up prices. Globally, Netflix is in almost every country, and Amazon has followed suit, meaning these services are now competing with local TV and SVOD buyers.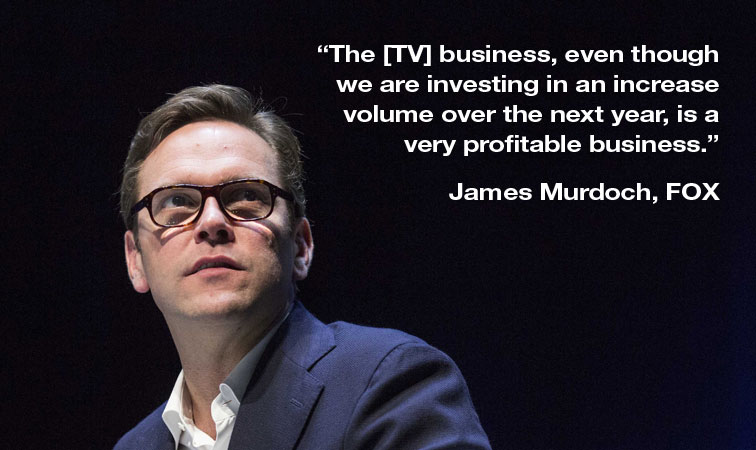 Photo: Christophe Morin/Bloomberg via Getty Images
The result is a more profitable model of TV series monetization, which means it is no accident that the number of original scripted series has doubled. TV networks and online providers have engaged in a strategy of using high-quality original content to differentiate their offerings, because these series have almost guaranteed revenue streams that have made television risk free.
CONCLUSION
The entertainment business is thriving because of the content WGA members create. This content has fueled the global growth of the media companies and the meteoric rise of online video distribution. The companies which control this content have reaped the rewards many times over. Writers deserve a fair share of this unprecedented prosperity.