When Noir Turned Black
Jules Dassin never gave names. He just made a name for himself.
America blacklisted the man. Italy exiled him. France embraced him. Greece considers him a national hero. The man is legendary writer-director Jules Dassin who, despite hostile treatment from his own government, still claims, "I am American, and that I will stay." This coming from a writer forced to flee the United States in 1950 and who has lived in Greece since the early 1960s.  
The name Jules Dassin might not be immediately recognizable to most people, but his classic films are known throughout the world-Rififi, Topkapi, Never on Sunday, Naked City, Thieves' Highway. When I ask the taxi driver to take me to an address on Melina Mercouri Drive, he's in awe. "You're going to the home of Mr. Dassin?" he asks, more than impressed. The street was named for her many contributions to the people of Greece, and in my short visit to Athens I've already seen one statue of her.
Dassin rarely grants interviews and, when I phoned, initially hesitated at my request. But when I told him the interview would be for WRITTEN BY and that I was calling on behalf of the Writers Guild of America, he scheduled us in. A strong union man all of his career, Dassin recounted that during the 1940s he had been on a Writers Guild negotiating committee fighting to get writers creative control of their own material.
At his home in Athens, I am greeted by a handsome 95-year-old wearing his signature white shirt with a light sweater thrown over his shoulders, his vitality as bright as his piercing blue eyes and striking white hair. "Meeting Julie, it was instant rapport," says actress Marsha Hunt, who first worked with Dassin in 1942 on The Affairs of Martha. "He had more charisma than almost any director I'd ever met. It was contagious. Everyone on the set was enlivened by him. He had a zest for what he was doing."
In His Own Thriller
Full of twists and turns and overcoming almost unimaginable hardships, Dassin's life story is as rich and complex as any feature film. The product of working-class parents, he grew up in New York's Harlem and the Bronx. In the 1930s, at the height of the Depression, Dassin joined a Yiddish theater. The youngest of the company, Dassin acted only when someone fell ill.
"It was not the conventional, commercial theater," Dassin says. "We did Sholem Aleicheim. It had a political tint." Called the Artef and under the direction of Benno Schneider, it became one of the most important companies of the Depression-era social and labor theater movement. Dassin worked with it for six years, an association that would later come back to haunt him. 
During this period, Dassin began his writing career. Like so many others of the period, he started by writing in radio. He wrote sketches for Kate Smith's show for $100 a shot, a fortune in those days. After the Artef disbanded, he segued to Broadway where he directed Medicine Show by Oscar Saul & H.R. Hays, starring John Randolph, Dorothy McGuire, and Norman Lloyd. Although the play ran for only 35 performances, it led to a contract from RKO in Hollywood. "I was brought out to California to be a 'watcher,' someone who watches other people make films," says Dassin.
One director on Dassin's watchlist was Alfred Hitchcock, who was directing Mr. and Mrs. Smith. Working for the master of suspense evoked its own moments of suspense: "Hitchcock drove me crazy. He had a fish bowl in his hands, with water, and sometimes he would throw it at me and I would catch it. That was his amusement. Also, he embarrassed me all the time because I would hide when he was shooting. I was so intimidated by him. After every scene or take, he would turn around and yell, 'Is that all right for you? May I print it?' So that went on.  After that film, RKO said to me, 'Okay, that's enough, you're fired.'"
MGM promptly hired him. Many writers and directors got their start working in the Short Department at MGM, learning their craft with little assistance. "We were thrown into an office and handed a subject of assignment," Dassin remembers. "It was self-training like little dogs-you learned where to pee and where not to. Nobody trained you. I had to write my own material too." MGM was impressed with their new hire. After directing only one short, he was given his first feature film assignment in 1942, Nazi Agent, and soon "was in the 'B' division making stinkers one after another. I just directed [at MGM] because there was no time to write."
Miserable during what he called his "seven-year slave contract," Dassin begged for release: "Mayer said, 'Don't you understand that if you don't fulfill your contract, you'll never make another picture anywhere?' I said, 'That's okay, I'll go back to New York.'"
Finally, Mayer summoned Dassin to his chambers, where a collection of studio producers-whom Dassin referred to as "the jury"-watched Louis B.'s treatment of a recalcitrant. Halfway through Mayer's lengthy diatribe about his prized racehorse, Dassin suddenly realized he was that racehorse, the one that stopped in the middle of races, that Mayer kept pushing to win. "The horse's trainer finally realized the reason the horse kept quitting was because he had the biggest balls," Mayer told them, "and that when he ran in a race, it hurt." This prompted Dassin to jump to his feet, crying, "Not me, you son of a bitch, you're not going to get my balls!" Mayer yelled back, "Get out of here, you dirty Red!"
Immediately his contract with MGM was broken.
Naked Noir
Following his dramatic exit from MGM, Dassin began an association with independent producer Mark Hellinger in 1947. Their first project together was Brute Force. Considered one of the best prison films ever made, Brute Force led to a success that allowed Dassin and Hellinger to work together on the groundbreaking film noir classic The Naked City (1948).
The project began when Malvin Wald (who scripted documentary films for the U.S. military during WWII) got the go ahead from Hellinger to write a realistic drama taken directly from the files of the NYPD. Hellinger's response to the script Wald turned in was, "What the hell is that?" The procedural was pretty much a new genre, and this had locations emphasizing the noises and crowds of New York. Hellinger was less than pleased, but Wald persuaded him to give the script to Dassin for an opinion. The next day Hellinger called and told him that Dassin had said, "Are you out of your mind? It's a new genre [a procedural], and we have to do it." Wald's 26-week contract was up, so Dassin brought in screenwriter Albert Maltz to help with a rewrite.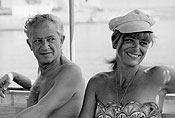 At Dassin's insistence, the film was shot entirely on location in New York City, an unheard of method for the times. He wanted the film's look to reflect both the Italian neorealist films and the American newsreels. The film features voiceover narration spoken by producer Hellinger, but most famous is the last line, written by Wald: "There are 8 million stories in the naked city. This has been one of them." That phrase became part of the noir lexicon. Wald received an Academy Award nomination for best screen story, and the screenplay was nominated for a Writers Guild award as well as a BAFTA award for best film of 1948.

Without the constraints of a studio contract (and with two successful films now under his belt), Dassin was free to make whatever films he chose. Though no label had yet been assigned his previous films, he was part of the burgeoning film noir genre: "We just didn't put a title on it. We felt something but couldn't put a name on it. I'm considered one of the daddies of film noir."

The Noir List

In 1949, Dassin directed Thieves' Highway from a screenplay by A.I. Bezzerides, based on Bezzerides' novel. The film noir gem about an ex-G.I., a tyro trucker bent on revenge against the mobster responsible for crippling his father, was the third hit film for Dassin and continued solidifying his place in film noir history.

But the glory would be short-lived. The Hollywood blacklist was casting its shadow over the town. 

"Everyone heard that subpoenas were being handed out," says actor-producer Norman Lloyd, remembering one fateful night in 1949. "Dassin lived on Bronson, and there was a knock on Jules' front door. Julie answered to find Darryl Zanuck [head of 20th Century Fox], who said, 'You better get out of town.' He gave him the assignment to direct Night and the City in London. It was unheard of to have a studio executive come in person like that and try to help."

Dassin has never forgotten that experience: "Zanuck said, 'You're going to England. Get a fucking script done, begin shooting, start with the most expensive scenes and they won't fire you, because it's probably going to be the last picture you're ever going to make.' I liked Darryl Zanuck! While I was working on the script, Zanuck called me and said, 'I want you to write in a part for Gene Tierney. She's going through hell, and she's a good kid. Save her.' So I wrote her a part. She was at the end of her career. This was a side to Zanuck that people didn't know."

Though another success for Dassin, Night and the City was to be his last studio film for many years. By 1950, the blacklist had permeated Hollywood. Actors, writers, directors, and producers were mercilessly shut out of Hollywood, including Dassin, who was still in England.  

"It was so hard to understand that period," Dassin says. "Darryl Zanuck saved my life. During that dark period when nobody would give me a job, I kept writing stuff that I couldn't sell. I sold a few things to Darryl Zanuck."

One day Dassin's agent called him back to the States, offering a picture. He returned to New York immediately. "But I was told that they would have to put another name on the film," he recalls, "and I will not do that. I was leaving my hotel, and there was a bag at the front desk for me with hundred dollar bills in it. I sent it back. It was from Universal." 

What angers Dassin even today are the claims that he and his friends were forced to flee the United States during this period, which wasn't entirely true. He knew it was a matter of time before he would be called to testify, so he was anxious to be questioned. After completing Night and the City in London, Dassin willingly came back to the United States: "I thought that I had all the heroic answers ready. I was going to be a hero."

Before receiving the subpoena, he received an offer to direct a stage revue starring Bette Davis. She was one of the few stars not afraid to work with him, and he went on the road with her show. When they brought the show back to New York, he finally received his subpoena-but not the chance to be a hero. Before he was to testify, he received a telegram stating that all the hearings had been called off. Even though Dassin never testified before HUAC, he was informally blacklisted. Offers for work dried up. 

Like other blacklisted artists, Dassin moved his family to Paris, where he found an expatriate Hollywood community who looked out for one another and even pooled their money. In fact, many sent aid to the families of the Hollywood Ten while they were in prison. "When he first came to France, everyone would go to the Dassin home," says Marge Bernheim, wife of Jules' agent Alain Bernheim. "It was kind of an epicenter for all the blacklisted, and friends of the blacklisted, and friends' friends of the blacklisted." (For Dassin, the memories are painful: "I had a double shock with Edward Dmytryk. When he was in prison, I took care of his children. It was very personal, and that hurt very much when he named me. It was so hard to understand that period.")

After arriving in France, he did receive an offer to make a film there. He wrote it quickly because he anticipated sinister agendas. A few days before the start of filming, the producer of the film was warned that, if he worked with Dassin, his film would never be released in the United States-nor would any subsequent films he produced. Dassin was taken off the film, and the affair made headlines in France. Suddenly, the French film community came to his aid and offered to help, even granting him immediate membership in the French directors' union. The gesture didn't procure him work, and the situation worsened. "People were afraid to hire you," he remembers.

Someone else was willing to take a chance on him, and he was offered another film, this time in Italy. While in Rome preparing to film Mastro Don Gesualdo, based on a classic Italian novel, that film was also blocked, and he was asked to leave Italy as an "undesirable." The producer had been scared off, and Dassin made headlines once again. "I went to the American Embassy to see who I could talk to about this," Dassin recalls. "The American ambassador at the time was Clare Booth Luce [who had written the classic play The Women ]. But I was not received."

After enduring five years of similar incidents, Dassin got the offer that would change his life and resurrect his career: adapt a book called Rififi.

Always On Sunday

The book by Auguste Le Breton was in French Argot dialect. Dassin didn't understand much French, let alone the dialect, so he had a friend read it to him overnight. He wasn't particularly enthralled by the book and considered turning the project down, but familial responsibilities came first and he found himself telling the producer how much he loved it. In seven days Dassin wrote the screenplay, in collaboration with Rene Wheeler.

Dassin decided he would veer off from the book in order to make the film both more visual and sympathetic to his own personality. In the novel, the villains were Algerians, and at that time there was political tension between the French and terrorist separatists from Algeria. Dassin believed he was offered the job because he was an American who had been blacklisted. The producer wanted to make the book's bad guys Americans and assumed Dassin would have no problem with this. But he did, and after their first meeting Dassin persuaded the producer to make them French instead of American, a testament to the loyalty he still felt for his country.

While writing the screenplay, his experiences of the hard times he and many of his colleagues were living through had a profound influence on the script. "I was thinking when I was writing about my character's death," he says. "There's a close shot of me saying, 'You've got to shoot me,' and I was thinking so much of the guys who were blacklisted.  [In the scene] they want [Perlov] to give names to the gangster that's going to kill me and I was thinking, No, you don't give names. I was thinking of all my friends who during the McCarthy era betrayed other friends."

The film is probably most famous for its heist, a Dassin creation that runs a tense 33-minutes without any dialogue or music. "I guess I have a criminal mind," Dassin says of his inspiration for the scene. "I like authority being conquered." The motivation in part came from his lack of French skills. He wanted to write as short a script as possible, and that seemed like a good place to cut out dialogue: "In the book it was one paragraph of one chapter: the guy wanted to raise some money to finance a hold-up to get money to do what he wants to do. So I said, 'Well, okay, that's my picture.'"

When the film was released, various media and several governments attacked the film, citing it as an educational process that taught people how to become thieves. Dassin claimed the contrary: the film, he believed, portrayed how difficult it was to actually carry out a crime.

But Dassin's use of suspense and tension, instead of violence, adds to the film's realism. "It's the only way," he says. "If you're doing something that's illegal, and you want to make it work, you have to get the criminal instinct into your audience, who will also want to make it work. You have to care about the characters as well. The audience should like them enough to want them to get away with it."  

Rififi premiered at the 1955 Cannes Film Festival and earned Dassin the prize for best director. It was a bittersweet experience: Most of the American attendees went out of their way to avoid Dassin. In her autobiography, The Memory of All That, actress Betsy Blair writes: "Year after year at the Cannes Film Festival when Julie was winning prizes, all the Hollywood people shunned him and avoided having their picture taken with him. If caught by a photographer at the same table, they would hide behind their champagne glasses. Then he saw Gene [Kelly, Blair's then-husband] and expected the same reaction. But Gene came after him, greeted him warmly, took his arm, and walked with him up the center of the big staircase of the Palais du Festival, among all the journalists and paparazzi."

Rififi became an international success that has influenced countless other heist films. Now, more than 50 years later, Stone Village Productions is remaking it, with a script by Bo Goldman. Dassin is elated the film will star Al Pacino.

Cannes 1955 included another turning point for Dassin: He met Melina Mercouri, a Greek actress in competition for her role in the film Stella. She did not win (for some unknown reason, no award was given in the best actress category that year). In her 1971 memoir, I Was Born Greek, Mercouri writes: "I hid in a corner so no one could see my tears. 'Does the prize mean that much?' It was the man with the blue eyes [Dassin]. I hated him. He got his prize for best direction. Who the hell was he to talk down to me? I bawled and bawled like a donkey. He replied, 'You're worth much more than that.'"

That was the beginning of their storybook romance and a marriage that lasted from 1966 until her death in 1994.

After Rififi, Dassin's next film was He Who Must Die, a drama set during the 1920s Turkish occupation of Greece, which he co-wrote with Ben Barzman, another American blacklistee living in Paris. The film also marked the beginning of a long professional association with Mercouri. Dassin and Mercouri were partners, both personally and professionally, and their biggest film success was soon to come.

Finding financing for Never on Sunday (1960) was far from easy. Dassin hadn't made a hit film since Rififi, and he didn't even have a script yet for Never on Sunday, just a vague idea of what he wanted to do. The concept came from a running argument with Mercouri's mother. "She'd go see a film and when I would ask her if she enjoyed it, she would say, 'Well, you go see it and you tell me whether I should enjoy it or not,'" Dassin recalls. "I decided to make a picture about a guy who tries to impose his opinion on everybody and that's what launched Never on Sunday."

Like most writers, Dassin never liked pitch meetings, but for Sunday he gave the performance of a lifetime to the United Artists executives, who weren't about to give him money without a script. "He plucked it out of the air," Mercouri wrote in her memoir. "A girl comes running down a pier. She undresses as she goes. Stark naked, she dives into the water. In a matter of seconds, every man on the docks leaps into the water to join her. The executive loved it, and Jules had a deal." But there was a catch.  Dassin, who believed so strongly in the project that he was willing to risk his entire script fee, told UA that if they didn't like the script, he'd return the money.

Dassin wrote the script in 10 days: "When I wrote a script, I worked all day as many hours as you can keep your eyes open because I can't do anything drawn out. As I'm writing the characters, I make contact with them, and that comes during the writing. I understand them. I never wrote with an actor in mind, except for Melina."

In addition to its box-office success (the $150,000 film grossed nearly $9 million, a healthy box-office at the time), Never on Sunday brought Dassin two Oscar nominations (for directing and writing) and Mercouri a nomination for best actress. The film won an Oscar for best original song and a Golden Globe for best foreign film. That year in Cannes, Mercouri finally took home the best actress award.

Making a List

In 1964, the couple gathered an international cast that included Peter Ustinov, Robert Morley, and Maximillian Schell for the caper film Topkapi. (Another high-concept heist film, Topkapi, Dassin admits, spoofs his Rififi.) The blacklist remained over Dassin's head, complicating negotiations for Topkapi.

"There was still the aura of the blacklist," says Alain Bernheim, Dassin's agent at the time. "I remember coming to Los Angeles from Paris to negotiate with Martin Ransohoff for the project. Naturally, Jules got a high salary after the success of Never on Sunday, and Ransohoff said, 'You want that much money for that communist!' And I said, 'I won't negotiate with you anymore.' He was out of line. They still thought of him as a blacklisted person, which was ridiculous. A few of them probably were communists, but definitely not Julie. United Artists made the film in Turkey, and it was a big success."

Dassin next adapted Never on Sunday into a Broadway musical for Mercouri.  It became a hit, winning Tony Award nominations for both her and Dassin. While performing the play in 1967, Melina's beloved Greece was overthrown by a military coup. She and Dassin both became outspoken political activists. Mercouri had her citizenship revoked and was exiled from Greece. There were even death threats against her, and she spent the next several years speaking out against the military rulers. While Mercouri was on tour making speeches trying to gain American support to restore democracy in Greece, Dassin was offered his first Hollywood picture since the blacklist.

It was a remake of the John Ford classic The Informer, but with a cast of black actors. The film was titled Up Tight, and they wanted it to reflect the black experience in America. Dassin never felt comfortable making this film.  He thought, Who do you think you are, writing a script about black Americans? The film was not a success, and the offers again grew few.

When the military dictatorship collapsed in 1974, Dassin and Mercouri happily returned to Greece. Mercouri became a member of Parliament and subsequently the first woman to hold the position of Minister of Culture.
Frustrated over battling with producers and studios, Dassin retired from directing films and turned to theater in Greece. He's never looked back.

In 1994, Dassin's beloved wife of 40 yeas passed away. In her memory, he established the Melina Mercouri Foundation to carry on her work of returning the Parthenon marbles back to their original home. Today, Dassin can often be found at the office of the foundation. "We have cultural evenings, from theater to music to just talk," he says, "and we never have an empty seat."

There are 8 million stories in the city of Athens. This has been one of them.

Read more about Jules Dassin