The Writers Making "Characters Welcome" at USA Network
It's been five years since USA launched the brand name "characters welcome," which helped make it a "go to" network instead of a "last resort" network. How did that happen? Who creates those characters? Who writes the shows that turned around the cable network? For answers, we talked to Matt Nix (Burn Notice), Steve Franks (Psych), Jeff Eastin (White Collar), David Maples and John McNamara (In Plain Sight), Andrew Lenchewski (Royal Pains), and Matt Corman & Chris Ord (Covert Affairs).
But first, a word about USA itself. The network started out as another "cable station," often the last place a writer would take a project. "Nobody wanted to be at USA eight or nine years ago," admits Jeff Wachtel, President, Original Programming, USA Network, and Co-Head, Original Content, Universal Cable Productions. When Wachtel signed on in 2001, he soon realized that the little cable network could never compete with the broadcast networks. So Wachtel went after what was not being made: the one-hour character-centric show.
"Some people do branding where they're just going to lay stuff on, and the brand comes from outside, and then they chase it," Wachtel learned. "We were fortunate to have something of a template with the shows that were already on the air and that were succeeding. Our way into original material was from a character perspective. What started to evolve out of that were flawed characters, where their weakness was also their strength. Monk was a great example of that."
The network brought in marketing experts who determined that all they had to do was drop the character umbrella over what already existed. They made it more specific and created a "brand filter": dysfunctional, quirky characters, flawed, but always likeable. It was decided these characters must also be placed in an environment of "blue skies." Today, everything the network develops—every promo campaign, all of the marketing—is put through the filter and must fit into the brand.
According to head of development Bill McGoldrick (SVP, Original Scripted Programming, USA Network), their development philosophy is, "We try to keep the number [of shows] low enough that we can actually pay attention and develop each script properly. What I've hated about the pitch process is—and this is something Jeff Wachtel taught me—is the [thumbs up/thumbs down]. Why does it always have to be pass/fail? Why is it always, either I want this, or I don't want that? Sometimes I'll tell a writer this is what works for me, but these six other things don't, either because we have it, or we tried it last season, or whatever. I try to keep an open door for writers if they want to re-pitch or keep developing. But you've got to be careful because you don't want to bring people back six times and then say 'no'."
The network has mastered a balance between character-driven and procedural storytelling, with "aspirational" characters at their core. Each character has a long term goal to aspire to—Monk's quest for eight years was to find his wife's killer; Michael Westen in Burn Notice strives to clear his reputation; Neal Cafferty in White Collar hopes to unravel the mystery of his lost love. All of which has to be done under the guise of "blue skies."
BURN NOTICE: Created by Matt Nix
Spies don't get fired, they get "burned." CIA agent Michael Westen (Jeffrey Donovan) was given a "burn notice" and dumped in his hometown of Miami with no money, no resources, a neurotic mother, a trigger happy ex-girlfriend, and a sidekick who used to inform on him. To regain his reputation, he works as a freelance investigator (usually for people in desperate need of assistance) to fund his own investigation into who burned him and why.
Creator Matt Nix began his career writing features first "for companies that didn't actually make movies, then after that, companies that went out of business." He was "all over the map." His agent suggested he try doing television, to which Nix replied, "Am I allowed to? I thought you had to be a TV writer to do that."
Once his agent convinced him otherwise, the genesis for Burn Notice came about in an unusual way. "I made a short film—a sort of sci-fi comedy that was on the Internet. And it turns out that people who work in intelligence don't really go down to the hotel bar when traveling in foreign countries because it's against the rules. They spend a lot of time in their hotel rooms reading and searching the net. So this guy just randomly contacted me to tell me he liked my film. It turned out that he has a practice of contacting authors and filmmakers whose work he likes…and sometimes they respond, and sometimes they don't. I did, and we struck up a friendship."
That guy turned out to be Michael Wilson, who was partly the inspiration for the show, and is now the consulting producer.
Wilson is something of an enigma, and all that is known about him is that he works in the field of private intelligence. His expertise is vital to the authenticity of the series, and he provides a unique perspective. Nix credits Wilson with helping him find the right tone for the show as well, and a different way of thinking about "spy stuff." Almost like a Deep Throat character, and ostensibly to keep his own cover, Wilson generally communicates with the writers on a daily basis via email or phone from undisclosed locations. He has come to the show's offices at least once, but very few people have met him.
Having literally no network experience, Nix not only sold his idea for Burn Notice to USA, but managed to convince them to let him run the entire show solo. He simultaneously attended the Showrunner Training Program at the Writers Guild while working on his first season of Burn Notice, and Nix emphasizes that the network was very supportive of that. He admits to being "the guy in the corner asking all the weird questions." Co-executive producer Alfredo Barrios Jr. revealed that when the network asked Nix for back-up scripts, Nix confessed he didn't know how to go about doing the act breaks. Barrios explained the format and luckily Nix was a fast learner.
Nix is convinced that had he come in with a complete pilot script, ready to shoot, he probably would not have gotten to run his own show. "The long development process—and it was over a year—ended up sort of serving me in that regard because I did a lot of drafts, so they had a really good sense of how I responded to notes, and what it was like to work with me over a long period of time." He believes that process gave the network executives the confidence to put him in charge.
Burn Notice was originally conceived as a much darker show. After Nix turned in the first draft of the pilot, both Wachtel and Bonnie Hammer agreed that, although Nix had an amazing voice, the script didn't feel right. Hammer, President, NBC Universal Cable Entertainment and Universal Cable Productions, told Nix that is  he would be willing to turn it into a blue skies series, it would have a better chance. Nix agreed and the network was elated by his next draft as well as the fact that he was not defensive. Hammer recalled, "He was so open, and he did the perfect marriage of upbeat and blue skies with a wonderful edge. When I read the rewrite, it was a home run."
Throughout the development of the pilot script, Nix went through three different "A" stories until it was the right fit for the network. "I found that setting this kind of dark character in this light place just naturally generated a lot of comedy," which is how Nix established the tone.
Because Burn Notice is a basic cable series, it has a limited budget, so Nix had to figure out a way to do a show about a spy without making it global. He cleverly used simple logic. "You take this guy who's really interesting, and that you really like, and clip his wings and force him to be in a particular place. Using the burn notice was perfect, so he can't leave the city that he's in. Then he can use all these interesting things that I wanted to explore, except we'll use them to help regular people. That really opened it up for me. And in a way it was more interesting than seeing a spy do spy things."
He and his staff of seven writers do exhaustive research. "We read about spies, techniques in both special operations and intelligence operations, and then apply it in a different context. We've done stories based on the spy craft of Aldrich Ames, who was a mole in the CIA, as well as the spy craft of Robert Hanson. We've incorporated techniques that the Mossad is famous for, and techniques that the Russian Intelligence services were famous for. So we'll take those techniques and then say, 'Alright, let's kind of reverse engineer this into an episode of Burn Notice. What's a bad guy that this technique would work on? What's a problem that this technique would solve?"
Every season Nix and Wachtel sit down to have what he calls, "our big what-are-we-going-to-do-for-the-season-finale discussion." There is usually a lot of input from Wachtel and the other executives, Nix adds, "I'm not saying they'll never disagree with you, but they want you to know the answers. They don't want to tell you how to write, they want somebody who says I know all the answers."
Jeff Wachtel calls Matt Nix the next J.J. Abrams. Wachtel explains, "Matt had to beat people off due to his success. He had to actually create another show, but lives and breathes Burn Notice." His new series, premiering on Fox, is The Good Guys, an action/comedy that teams up two opposite guys on the same side of the law. While the new series has some of the USA trademarks, Nix felt it wasn't entirely in sync with their brand and that it would be a better fit at Fox.
PSYCH: Created by Steve Franks
Using his quick wit and charismatic personality, Shawn (played by James Roday), a young police consultant, convinces the Santa Barbara PD detectives that he's actually a psychic. Although highly skeptical of his explanation, they hire Shawn to help solve tough cases. With the reluctant assistance of his best friend Gus (Dule` Hill), Shawn employs skills of observation to solve cases for which he had been trained since a child by his overbearing and highly critical father, who was a detective himself. That training motivated Shawn and Gus to open Psych, a fledgling PI agency.
The life-long friendship of the two lead characters, Gus and Shawn is the core to the series. It is the lightest in tone of the network's shows and creator Steve Franks explains, "I always said that Psych is the study of fun, and how much fun is too much fun in your life?"
Franks pitched Psych first to the broadcast networks, eventually landing at USA. He recalled, "It was one of the greatest pitches I've ever had in my life. I almost performed the entire pilot episode in the meeting. It was a dream meeting." Never having run his own show, Franks believes it was his pure enthusiasm that gave the network the faith in him. It also didn't hurt that his show was steeped in personal angst.
Like his lead character, Shawn, Steve Franks' father was a cop. "Shawn is a guy whose father always wanted him to become a cop, and sort of disappoints him in that way. The pitch itself actually started with me talking about my relationship with my dad and my dad sort of secretly training me to be a cop from a very young age." Development executive McGoldrick was sold on the idea after Franks told him a story about how his father would take him to get ice cream as a kid, but before he would let him eat it Franks had to close his eyes and tell his father what the four people in line behind them were wearing.
Once James Roday and Dule` Hill were cast, the two actors started "doing their thing" and, according to Franks, the comedy became broader. Roday is more than just an actor on Psych. He had done some writing before landing his role, and Franks has given him the opportunity to write a few episodes each season, including scripting the season four finale with staffer Andy Berman ("Mr. Yin Presents..."). "I find I'm least interested in writing for my character and most interested in writing for the rest of the cast, and my episodes usually need a Shawn punch up when I'm finished," explains Roday.
Franks' one mandate for the show is that it has to be fun, and he often incorporates his love for movies into the series. "We do a sort of basic cable version of every movie that I've ever loved or every genre of movie that I've always wanted to play with. I always approach with something like, I'd love to do Hitchcock and then we start from there and let's find a crime, and how do we wrap Hitchcock thematically into it? For me, it's all about my own personal wish fulfillment."
IN PLAIN SIGHT: Created by David Maples
Mary Shannon (played by Mary McCormack) is a Federal Marshall with the Witness Protection program (WITSEC). She conceals the high-risk, high-impact job from her co-dependent mother and sister.
Maples originally conceived In Plain Sight in 2004 for the UPN network as part of a blind script deal. The UPN mandate was to write something with a strong female lead, so he began making lists of interesting jobs and professions. In a 2008 interview with Fanbolt.com, Maples explained, "As I started thinking about it, there's almost nothing these days certainly that you professionally can't put a female lead in and have her performing at the highest level. So I honestly can't tell you how I landed on this. It was the gamut of job possibilities—doctor, lawyer, real estate agent, anything you can think of, cop, whatever, I had [written a list] on this piece of paper."
His protagonist deals with people's personal problems really well, but has a total lack of ability at dealing with her own. He made this a strong component in almost every episode. In a 2009 interview he stated, "There's some element of Mary's personal life confounding her. And we try to tie those two story lines together somewhat thematically between the witness story and their problem, and Mary's personal problem, and the problem of her family and the other people in her life."
Maples left the series after the second season and John McNamara, a well-seasoned television veteran with numerous credits, was brought in to run the show. McNamara has followed Maples original vision except to "dial it up and keep it real."
McNamara is new to the USA Network and describes the executives as "true creative partners." He appreciates the fact that the network does not have a heavy managerial style, but knows what it wants.
The show also has a retired Federal Marshall on hand as a consultant, and McNamara and the five other writers on the staff frequently check in with him to check for accuracy.
When asked what advice he would give fellow writers who hope to sell a series to USA, McNamara replied, "Character, character, character. Everything starts with a character who has a completely unique perspective on the world, and whose voice is unique to that show. They would probably never buy just a straight procedural. That's not their brand. So you need very well-wrought plots that are driven by very well defined, specific characters."
ROYAL PAINS: Created by Andrew Lenchewski
Hank Lawson (Mark Feuerstein) was a rising star in the New York City medical community until he lost everything fighting for the life of a patient. Hank is in need of a new beginning. With much cajoling from his socially aggressive and out-of-work brother, the two end up in the Hamptons where Hank reluctantly becomes the hot new concierge doctor serving mostly the rich and famous.
Before creating Royal Pains, Lenchewski's resume listed himself as "chief curator of the Lenchewski Archives, one of Hollywood's biggest private collections of unsold scripts. He survived years of profound unemployment with the endless support of his loving family."
Lenchewski spent eight years pitching and writing scripts that ultimately did not sell. He jokes that his one television staffing position on the NBC series U.C. Undercover (2002) lasted about 20 minutes. From that misadventure, he decided to create his own world and characters, and if it took him longer so be it.
When Lenchewski made his USA pitch, "I went through my whole spiel and talked about concierge medicine and what the trend was about, and I talked about the Hamptons and how sexy and fun and vibrant it all was. And I talked about all these really cool medical situations that we could delve into for future episodes. Jeff Wachtel listened really carefully and intently. When I was done, he took a pause, looked at me and said, 'Great, tell me about Hank.'"
Once the project sold, Lenchewski decided to bring in someone to help him run the show. He chose Michael Rauch, whose work he admired, and now considers a mentor as well as a partner. Lenchewski is grateful that the network didn't just shove some experienced showrunner down his throat to teach him the ropes. "I knew what I didn't know, and I didn't know how to run a TV show. So my attitude was to bring in someone as long as it's the right person that can help show me how it's done, and I'll let you know when I think I can take it from there."
Lenchewski has a writing staff of eight and considers himself the least experienced person on his staff, referring to them as "an embarrassment of riches."
A doctor who runs an ER outside of Boston has been working with Lenchewski since the show's inception. At the beginning of each season, this Massachusetts doctor comes to L.A. to visit the writers room, always bringing a binder full of unusual and interesting medical conditions. Over the course of the season, each writer picks his favorite disease and incorporates it into the series. And Lenchewski's father being a doctor is also helpful. "He's the first one to call bullshit on me."
Lenchewski's rule is that "the drama comes from the medicine, and the comedy comes from the characters." He understands the USA Network's brand and offers writers this advice: "I like to use the four very important 'C' words: character, career, comedy, and climate. Which is to say, a strong central character who does something for a living that gives you a stateable franchise, a tone to the show that's light and breezy, and then it should really be in a blue sky, a beautiful world like Miami, like the Hamptons, like Santa Barbara. I think if you really focus on those templates, the rest follows."
WHITE COLLAR: Created by Jeff Eastin
Jeff Eastin's television break—and he jokes about this—came in 1999 with the half-hour series for UPN, Shasta McNasty. Eastin referred to this series as, "Probably one of the hated and most vilified shows on network television. Technically, White Collar is my fourth show, which means I've screwed it up three times before."
Like Burn Notice and Psych, White Collar was originally conceived as a much darker show. White Collar chronicles the misadventures of con man Neal Caffrey (Matt Bomer) who evades jail time by teaming up with FBI agent Peter Burke (Tim DeKay) to catch other white-collar criminals. When an opportunity arose to take the project into USA Network, Eastin "ran that story through the blue sky USA filter." He came into the network meeting with a well-developed pitch, the first season laid out, and even created poster art for the show.
Once he sold his concept to the network, he studied another USA series, Burn Notice, in terms of structure, how much time to spend on the "A" story, how much time to spend on the mythology. He went to Matt Nix for some guidance. Eastin recalled, "One of the things we discussed was the idea that you can take the mythology for a particular season, and as that mythology is sort of wrapping up, you introduce a new piece of the puzzle that can take you onto the next season."
After the series was picked up, Eastin recalled that USA's Bonnie Hammer sat him down and said, "Relax. You're not being canceled in three episodes. We don't do numbers, don't worry about it, we believe in the show, we'll make it work." This was great news for Eastin, who no longer felt the pressure to cram every good thing in the first one or two episodes to avoid cancellation.
Eastin has seven staff writers. In the writers room he pins up "scenes I'd like to see" as a way of beginning an episode. "For example, I had this thought in my head that I wanted Neal to buy a bakery, and I wanted him to leap out of a judge's office and land on the bakery awning. I have no idea where that came from. And I started to build the episode around it… Breaking stories is all about keeping all the balls in the air, keeping all the puzzle pieces moving in your head." They also employ a former FBI agent as a consultant.
After reading former con artist Simon Lovell's book, How To Cheat At Everything, Eastin hired him to advise them on how to make the con games and dialogue more realistic and "shadier." Lovell often reads scripts and gives notes, and he has gone to the set where he advises Bomer how to do certain pieces of business. There is a certain irony to his role as a consultant. Lovell remarked, "It's kind of interesting, having been part of the shady world, to actually be part of the entertainment world."
COVERT AFFAIRS: Created by Matt Corman & Chris Ord
The writing team of Matt Corman and Chris Ord are the newest guys in this fraternity of writers. The duo credits Written By magazine for getting them their big break in television. They had toiled in the feature world for several years, but it wasn't until their spec script Luna became one of the magazine's best unproduced comedy scripts for the 2005 summer issue of Written By that their careers took off. After it appeared in the magazine, someone at CBS read it and asked Corman and Ord to adapt it into an hour pilot.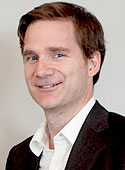 Covert Affairs, however, was the first script of theirs that went to pilot, and the first pilot that went to series. It was originally developed at NBC, and later set up at USA with Doug Liman (Bourne Identity) as executive producer. Corman and Ord had been interested in doing a show set in Washington, DC and settled on what life was like at the CIA, not just as an institution, but as a workplace dealing with many of the same office politics that ordinary employees would experience in less dangerous jobs.
The writers developed the series using the network's well established brand— characters welcome—as their guideline. "We try to recognize the people who work at the CIA first and foremost, and then get into the action and all the intrigue that follows," explained Ord. Added Corman, " USA allowed us to try things without fear of the process ending. That's what you're always afraid of in Hollywood—that the music is going to stop and they're going to lose interest."
Jim Parriott was brought in to manage the series alongside Corman and Ord, but the network has still given the two of them a lot of autonomy in everything from casting to selecting the director of the pilot. They have also turned to fellow show creators Matt Nix and Andrew Lenchewski for guidance.
There is obviously camaraderie at USA, not just between writers and the network executives, but among the various showrunners as well. Corman and Ord compared the experience to a marriage. "They're looking for long-term relationships," says Ord. "As a result they go out on less dates, but those dates are more meaningful and the relationships last longer."