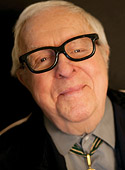 Photo: Ralph Nelson
A Lion at 90, 91, 92…
Ray Bradbury was writing up to the last, even if he lay silent, eyes closed, breathing shallow, hands still – even then his imagination soared, swooping low through solar systems, plunging heedlessly into countless suns, finding undiscovered planets and unknown creatures, giving visions names and narratives, gasping with wonder, shaking wings with angels.
(Watch Ray Bradbury & Hugh Hefner on the origins of Fahrenheit 451)
His mind never paused because his enthusiasms never faltered. When F.X. Feeney and I interviewed Bradbury at age 90 (see FADE IN), we found him seated in a wheelchair, nearly blind in one eye, deaf in one ear, enthusiastically dictating a story over the phone to his daughter Alexandra. She would then type his stories, faxing back pages for his afternoon edits and revisions. Age 90. Still publishing, still pushing the envelope, despite the cruel stroke of a few years ago.
That day in his memento-crowded office, Bradbury suggested that Written By be the first to publish a new short story, "The Dog in the Red Banana." He marveled at our surprise: "Work is the only answer."
For screenwriters, Frank Darabont expresses it best: "Ray has been a father to us." If Bradbury believed in your work, he eagerly mentored, gave notes, wrote introductions to agents and publishers and producers and for books. Someone once said, "Without Ray Bradbury, there is no Stephen King"—spoken by none other than Stephen King.
"Every time I've completed a new short story or novel," Bradbury confided to his biographer, "I say to the mailbox, 'There, Death, again one up on you.'"
Death beat him to the mailbox on June 5, 2012, but deep down in your soul (which he believed in), you know that Ray Bradbury is beating on into the universe, seeking new vistas, having left us with ideas and work that will never die.
After all, can a ray of light perish?
---
Ray Bradbury, August 22, 1920 – June 5, 2012
Written by F.X. Feeney
What a full and exemplary creative life this man led. "You're looking at a 12-year-old boy," he boomed from the stage at ComicCon back in 2010, three weeks shy of his 90th birthday. Everyone readily believed him. Despite that he was exclaiming these words from a wheelchair, his pronunciation slurred by a stroke he'd suffered long before, there was no denying that the lucid mind which produced his scores of books and literally hundreds of short stories, not to mention his bushels of screenplays, was still firmly entrenched and dazzlingly active. Not long before, he'd invited Richard Stayton and myself into his home to interview him for Written By. We didn't know what to expect, we took care not to overstay our welcome, but Ray – as he insisted we call him – was as fiery, funny and in full concentration as the results demonstrate.
One interesting constant in his conduct particularly moves me, looking back. Ray was a most acknowledging man. As we sat down he looked closely at Richard and me – fixing each of us with his good eye; cutting through the myriad of ailments in which he was marooned to make deliberate and definitive eye-contact. As he spoke, he was likewise constantly elevating countless other people – his grandfather; a magician who'd impressed him as a boy – most often by name. Read any account Ray gives of himself, whether spoken or in print, and you'll often find him celebrating his closest friend Norman Corwin, his beloved wife Marguerite ("Maggie"), his daughter Alexandra, his great colleague Harlan Ellison, to name just a few. He took great care to give credit to anyone who helped him become himself. His jewel-cutter intensity when greeting total strangers – such as Richard and me, but also later at ComicCon, where he was dealing with immense crowds – was his way of saying to any and every reader, "You made me who I am."
Sad as it is to imagine a world in which Ray Bradbury is not still alive out there, boosting us all with his ever-living, ever-loving optimism and winged imagination, nearly 92 years is a magnificent run. He did the work and he moved on, bless him.
Here's a taste of what it was like to hang out with him for an hour. Enjoy!