The C-Word and Nora Ephron
"I didn't even know she was ill." The refrain from entertainment industry professionals when Nora Ephron passed away from cancer on June 26 at age 71. A shocked, sorrowful comment, heard over and over again: "I didn't know she was sick. Did you?"
Nobody did. Because that's the way Ephron scripted it. She had to work and what else could she do? A woman over 50 in Hollywood must project the picture of perfect health, a pose of utter confidence, and the calm strength of a warrior —rather, she does if she hopes to work. When a professional acquaintance of Ephron's ran into her at a New York cancer clinic six months ago, the writer-director's reaction was telling. Before the friend could even offer a proper greeting, Nora quickly interrupted: "I'm not here for me! I'm just visiting someone."
When Written By photographed Ephron for our 2009 cover story, she surprised us with concerns over her public image. After all, she'd been photographed hundreds of times. But even though we'd hired a top-of-the-tier New York photographer, Ilona Lieberman, Ephron appeared uneasy. (Nora subsequently chose our cover shot as the author portrait for her recent book of essays, I Remember Nothing, so obviously Ms. Lieberman met Ephron's exacting standards.)
In retrospect, her concerns had good cause, and not simply to keep private a fight against cancer — the writer-director of so many exceptional movies clearly wasn't afraid of a fight — but mostly because of the bias against women of a certain age in her beloved profession.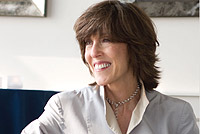 Photo: Ilona Lieberman
She wanted to work, had to work, and continuously worked. Yet the night of her passing, in clips from 20 years of Ephron interviews on The Charlie Rose Show, you watched her speak of how hard it was to get work as a woman over 50. She knew the score: any blood in the water and the sharks form a feeding frenzy.
Would she have found funding for the excellent Julie & Julia (written and directed at age 67), even with Meryl Streep in the Julia Child's role, if the dreaded C-word had been whispered during development meetings? Who could have made the idiosyncratic, deeply personal Sleepless in Seattle if not Nora Ephron, who wrote it at age 51?
"The realization that I may have only a few good years remaining has hit me with real force," Ephron reveals in her essay "The O Word," written specifically for I Remember Nothing, her last book. Still, she refrains from mentioning the C-word, although in the book's acknowledgements, her last sentence provides a hint as she thanks "and also, of course, my doctors." Funny when read upon publication, but now, in retrospect, not so much.
Her screen voice remains eloquently available to us, as does her personal voice in her Written By interview; her private voice she kept secret, reserved for herself and for her family. As it had to be, alas.
Nora Ephron, through force of will: forever young.