In the Company of Women
Five who run hit shows at CBS.
Also Read: The softer dramas
There were no press conference announcements, no cocktail receptions to celebrate. It was business as usual. Yet this year, five CBS one-hour dramas are run by women: Carol Mendelsohn at CSI:, Ann Donahue at CSI: Miami, Meredith Stiehm at Cold Case, Carol Barbee at Judging Amy, and Barbara Hall at Joan of Arcadia. All five are the real thing: fully in-charge showrunners with $2 million budgets for each of about 20 episodes.
The other networks have a smattering of women running shows, mostly sitcoms; a few are partnered with men. (The notable exception is Amy Sherman-Palladino of WB's Gilmore Girls.) None comes close to CBS's equal rights amendment. Some credit network president and CEO Leslie Moonves, who, they mention, has always surrounded himself with strong female executives and might have a comfort level with women that others lack. "I'm gender-blind, color-blind, age-blind," Moonves says. "Talent is too rare a commodity. I take it wherever I find it."
Even more announcement-worthy, three of the five shows are police "procedurals," the street-tough genre once considered the preserve of men, run by women who might never have handled a weapon or seen a corpse outlined in chalk, but still... Two of these shows, CSI: and CSI: Miami are ranked in the top five, usually first and third respectively. Cold Case was the top-ranked new drama last year.
Moonves offers his own take on the success of women producers in the genre: "Procedurals aren't cop shows. They're puzzle-solvers, brain-twisters. They're all watched by more women than men." (Is he suggesting that women are brainier than men?) But Moonves admits that even he was surprised at CSI:'s early success among women viewers.
The five women all mention a management style that social psychologists would call feminine--cooperative, nurturing of the talent of others--but they leave little doubt that they are in charge. Four of the five are older than 40; the youngest is 36. All have come up through the ranks in television series. None was handed shows as young prodigies. Most of them spent serious time in other lines of work, perhaps more even than men in a field known for winding career paths.
Carol Mendelsohn and Ann Donahue have such intertwined stories that they need to be told together. They are co-creators, along with Anthony Zuiker, of CSI: Miami and CSI: New York. Mendelsohn now runs the original CSI:, and Donahue runs CSI: Miami. They first worked together on CSI:, but they should have--could have--met several times before.
Above the Line
Mendelsohn, now 53, grew up in Chicago, which she calls a city of great storytellers. Her father was a successful, well-connected, rather colorful lawyer who took his young daughter along to downtown breakfasts of cops and pols and priests, where "everyone had a story," she recalls. Mendelsohn went to Smith and then transferred to Cornell because "I was too socially shy for an all-women's college. We were bused to Williams every weekend, and it was too much pressure for a city girl from a coed high school." She loved television so much that her college friends drew a caricature of her with a TV set for a head.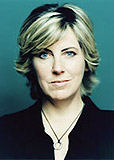 But she went on to George Washington University Law School and then practiced at the Washington, D.C., office of the prominent Los Angeles--based firm Wyman, Bautzer, Rothman, & Kuchel. "But I realized I wouldn't be the best attorney," she says. She began writing short stories and collecting rejections. There were few screenwriting how-to books back then, so she enrolled in an American Film Institute class, conveniently located in the Watergate building that housed her office. She wrote a script that was passed on to her father's California law partner, who played tennis with Grant Tinker. The connection got her script to MTM Studios. A staffer there liked it. "Better than 90 percent of what I read," he said, suggesting that she write a spec script for one of their shows.

"It was Hollywood-speak, and I was naive." But it was all she needed to prod her move to Los Angeles. Being a lawyer got her a job as production coordinator for student films at AFI, and she kept on writing spec scripts and reading the how-to books that were on the market by then. Another friend of her father's got her an interview at MGM. "I was in and out in seven and a half minutes," she recalls. "The security guards felt sorry for me." But a script of hers was duly passed along, and she got freelance jobs at Fame. Staff jobs at Stephen J. Cannell Studios followed. She worked on Hardcastle & McCormick, Stingray, and Wiseguy. She had a lawyer's sense of procedure and loved story and action. "It was a great place to learn," she recalls. "The executive producers would be off doing pilots, so the other writers and I were assuming a lot of their responsibilities. There's no substitute for that kind of experience." Now, she tries to offer the same chance to young CSI: writers. "We rewrite scripts in the same room together, so they understand my taste, and I understand their unique voices. We watch dailies together and edit together."

She rose to producer in the Cannell hierarchy and then moved on to The Trials of Rosie O'Neill and Melrose Place. By then she'd earned a reputation as a hard-boiled Cannell writer and had to make a case that she could "write women." One producer argued on her behalf: "Carol loves soap operas."

Coming up during the 1980s, Mendelsohn accepted without complaint that she was excluded from the "guy club" activities. "Men had it hard too," she says. "Not many of them played cards with the insiders." But male writers went to lunch together, and Mendelsohn went to lunch with the assistants, who were still called secretaries. She mentions with some pride that women producers now gather for dinner regularly and do a little torch passing from those who are well-established to those just in the door. But she admits that some men are still more comfortable dealing with men, as are some women with women. "It's not a problem for me," she says. She just puts her head down and keeps writing.

In 2000 Mendelsohn wrote a pilot for CBS that was admired but not picked up. Meanwhile, the network was going ahead with the pilot for CSI:. Its creator, Anthony Zuiker, had no television experience. Several of the executives at the network knew Mendelsohn from other shows, and they turned to her to run the CSI: pilot and then the series.

Mendelsohn had to work fast to put a writing staff together. CSI: was a complicated procedural with a lot of science that none of them knew and with tricky inserts showing incised flesh and organs pierced by bullets (soon to be dubbed meat shots). They had five technical advisors and had to figure out how to write the exposition and hide it. "No one person can figure all that out," she says. "This was a collaborative show, not a single voice." She was hiring talented writers, but she knew she needed an old hand, a partner. And she knew whom she wanted: Ann Donahue.

Legal Eagle

Donahue, like Mendelsohn, is a Midwesterner, but from a very different tier of the region. "I had been writing in my head since I was five," she says. But Donohue, 49, grew up in a large Irish Catholic family in Ohio and spent her early years acquiring what she calls "life experience." She dropped out of Ohio State, married, divorced, and moved to Los Angeles, where she wrote plays in the morning and worked as a legal secretary in the afternoon.

She typed briefs at the same firm in whose Washington office Mendelsohn was a lawyer. "The legal work was a great help," she says. "I didn't just see clients in desperation, but I saw what a jungle a business office is. We did criminal, corporate, and entertainment law and probate and taxes. I got to see all walks of life and people at their most vulnerable. I watched the human condition go past every day, and I'd go home and write about it."

She also learned to navigate the hierarchy of a law firm. Her place was in the "pink ghetto."

"There was a strict caste system, and I was at the bottom of the totem pole. I made coffee, and I went out in the rain because one of the partners wanted different bread for his sandwich." At some point, when both women were at Wyman Bautzer, Mendelsohn made a vacation trip to California and visited the L.A. office. Donahue, the secretary, remembers her clearly; Mendelsohn, the lawyer, has no recollection of the meeting.

Meanwhile, one of Donahue's plays was staged in Santa Monica. Home Fires was about a Boston family forced to confront long-buried grievances during a Christmas snowstorm. A network development person liked it and that led to some movies-of-the-week. But Donahue was drawn to series work because she liked the idea of staying with her characters. She soon got lucky--or maybe what she deserved--and found herself apprenticing with television's best producers.

In 1989, on the strength of a spec script about the Vietnam generation, she landed a staff job with China Beach [created by William Broyles Jr. and John Sacret Young]. Four years later, she moved to 21 Jump Street [created by Patrick Hasburgh & Stephen J. Cannell], arriving at Cannell soon after Mendelsohn left. That job allowed her to give up the legal typing in the afternoon, which she considers her first career milestone. Her second milestone was winning an Emmy at David E. Kelley's Picket Fences.

She credits the men she worked for back then, especially David Levinson at Cannell, for teaching her the business. "He always told me that the producer's job was to get into the writer's wheelhouse, not to get them into yours. It was a selfless way to work. He also taught me to just tell the story and then produce it. Worry later if you can get an F-16 bomber for the production."

Her career bumped up and down. There were shows that didn't get made, and series that didn't last. But she worked for Steven Bochco on Murder One [created by Steven Bochco & Charles H. Eglee & Channing Gibson] and then for Steven Spielberg on the short-lived series High Incident [created by Eric Bogosian & Michael Pavone & Dave Alan Johnson and Steven Spielberg].

In 2000 she heard about CSI: and asked her agent to see if there was an opening. Mendelsohn, it turned out, lived two doors away from Donohue. Since she was leaving town the next day, Donahue was asked if she would mind walking over to Carol's house for the meeting.

The two women found themselves on the same wavelength. They had both been to the Cannell school of crime writing. "We have the same approach to story," says Donahue. "A show's job is to entertain. It's plot-driven, and the writer should commit, tell the story and let nothing get in the way--not educating the audience or political correctness or 'arias.' The hero must have desire. He must be thwarted. There must be complications."

Mendelsohn cried when she got the phone call: Donahue had accepted the offer. No matter what got thrown at us, we could get through it, she remembers thinking. The partnership worked immediately. "On the second day, Ann wrote a whole page on how to use the meat shots," recalls Mendelsohn. To everyone's surprise, CSI: was not only a major hit, it launched what Moonves declares "the most successful franchise in television history."

By the third year, the network spun off the Miami version. "We didn't want the mothership to suffer," says Donahue, so both writers stayed with the first show. But CSI: Miami got off to a rocky start. "It needed love and tending," she says, so Donahue left to take it over. She cherishes the new story structure (in Miami the criminalists are cops with badges and guns) and the new coloration of the day shift as well as the cast. "I fell in love with David Caruso," she says of her intense star.

Both showrunners see incidental advantages in being a woman in charge. "Coming up slowly taught me how to do it," says Donahue. "I learned every department--camera, editing, design. I know when something is wrong and when I'm being handled, when someone can't say yes so they say no in a sly way. I've also learned to respect the crew. They need the script in the best shape possible so the artisans can produce it. They're waiting for the script. It's not a party."

Mendelsohn adds: "I want everyone to be the best they can be, to create an environment for people to shine. It's best for the show. I'm not saying that men don't do that. Maybe it's a cliché about women."

Cast a Cold Eye

Meredith Stiehm, 36, is the creator and executive producer of Cold Case, last season's new surprise-hit cop show. Stiehm's detective is a soft-featured woman whose wisps of stray blond hair suggest she -doesn't spend her life in front of a mirror. Like the showrunner, Det. Lilly Rush works in a man's world, but hers is a tough Philadelphia homicide squad where she is the sole female detective.

"Lilly is successful in a world not set up for her to succeed in," says Stiehm. "It's a male-dominated world. It makes her more interesting because she navigates this world." Lilly's beat is the cold case, the old unsolved murders. The clues are grisly and anthropological, the witnesses foggy or gone. "I think of Lilly as more cerebral than the male detectives. She's not tough or intimidating. She relies on her intuition and psychology to get through to the truth."

Her story is set in Philadelphia, because Stiehm, who grew up in Santa Monica, attended the University of Pennsylvania, where she was recruited for the tennis team and studied playwriting. She returned to L.A., tried her hand at plays, and concluded that one-hour television dramas suited her better. Like Donahue, she started with a play mounted in Santa Monica, which landed her an agent and then a script job for Northern Exposure. "It was thoroughly rewritten," she remembers. Then came Beverly Hills 90210, where she freelanced 10 episodes and spent a year as a staff writer before David Milch hired her at NYPD Blue. "I owe a lot to David Milch," she says. "He hired me on the basis of a spec script." She was at NYPD Blue from 1996 until 2000, earned an Emmy nomination, and then moved to ER [created by Michael Crichton] for two years. "But I missed detectives. I didn't much enjoy medical drama." So she created Cold Case.

Perhaps because she is younger than the other CBS women showrunners, with a girlish timbre to her voice, Stiehm has had a harder time being the boss. The studio and the network, she says, had less confidence in her than they would have with a man in charge. "It was a sense I had," she says. But there were some hard facts to back up that sense. She got a lot of notes and monitoring in the beginning. "Maybe it's the way they are with all new shows, but there was a lot of pressure before we aired." And despite her eight years of experience and Emmy nomination, they partnered her with a male producer, Shaun Cassidy. (Cassidy left after two months, deciding he had no real role there.) "A man with my track record and my résumé would be viewed with a lot of confidence," Stiehm believes. "They had no reason to doubt me except that I don't fit the stereotype of a showrunner."

Their doubts were unfounded. Once ratings came in, network pressure eased. But Stiehm also found that it -wasn't easy for a woman, at least one who seemed young, to wield authority. "I don't look formidable," she admits. "The first day on the pilot, the cameraman mistook me for Kathryn [Morris, the actress who plays Lilly]." On another occasion, she asked the assistant director to have the extras remove their jackets. Stiehm stood by as the A.D. conveyed her request. "When is the executive producer going to get here?" an extra asked.

Even if she were crustier, she says, "it's easier for some men to take direction from a man than from a woman. A woman runs the risk of being labeled bossy, opinionated, or controlling." But sometimes they just have to be, she notes: "Women are more interested in consensus than hierarchy, but consensus isn't always reachable. You can't please everyone."

Cold Case, like the three CSI:s, is a Bruckheimer show, and Stiehm appreciates the support she received from Mendelsohn and Donahue last year. Still, she has a bone to pick with how the world is run: "There is a category for a wunderkind man. The women I know have worked at every level and climbed the ladder. I've never seen a 25-year-old woman showrunner."