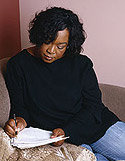 Photo: Jilly Wendell

The Cutting Edge


Shonda Rhimes dissects Grey's Anatomy.



When Shonda Rhimes was about four, before she could even make a proper peanut butter—and—jelly sandwich, she'd borrow her parents' tape recorder and tell stories into it for her mother to later transcribe. "I remember very clearly," Rhimes says, sitting in her Prospect Studios' office, where she was gearing up for season two of Grey's Anatomy. Last spring, Rhimes' words–initially heard only by her mom roughly 30 years ago–enjoyed a weekly audience of more than 18.5 million as the new ABC/Touchstone show reached its stride. This success came after being added to the midseason line-up in the coveted but intimidating spot behind Desperate Housewives.

Until Grey's, Rhimes found success mainly in features, which she wrote alone. But as creator and executive producer, in tandem with executive producers Jim Parriott, Betsy Beers, and Mark Gordon, she had to learn quickly "to play well with others." That meant overseeing every detail, from hiring writers to selecting a hospital location and choosing shoes and shirts for the characters. Equally daunting for Rhimes was entering Grey's writers room. Although she was confident she'd hired a talented crew to translate her vision of a clever hospital drama that was a little bit ER and a touch of Scrubs, with a randy dash of Sex and the City thrown in, she herself had never been on a TV staff.

To leap across the threshold from pajama-wearing, home office—working screenwriter to cashmere-clad showrunner facing a dozen scribes, well, that flatout gave her the willies. "So for the first few days, I skulked outside the door [of the writers' room]," Rhimes remembers. "Then I'd go in for a few minutes and eye everyone. One day, I just went in the room and sat down because what they were talking about was so intriguing and fun and smart. Suddenly, I realized, Hey, these are my people! These are writers. And I love writers."

The Intern Years

Rhimes' office mixes the colors of peach cobbler. A bookcase and armoire are the crust; her walls and a desk lamp vary from the lighter flesh to the denser hue that hugs the pit; the richest, peachiest wall is adorned with framed posters of the produced films she's written: the HBO original movie Introducing Dorothy Dandridge [teleplay by Rhimes and Scott Abbott], which earned star Halle Berry a Golden Globe and an Emmy; Princess Diaries II [story by Gina Wendkos and Rhimes, source material based on characters created by Meg Cabot], which featured the legendary Julie Andrews alongside newcomer Anne Hathaway; and Crossroads, the Britney Spears vehicle that found Rhimes dodging her first batch of rotten tomatoes from critics. (More about that later.)

Rhimes might have continued to ease on down the features road, if she hadn't adopted a newborn three years ago. That's when she opted out of sipping pretty cocktails at alternative music clubs throughout L.A., for what turned out to be another mother-daughter collaboration: With little Harper at home, she plopped on the couch and rediscovered her TV. "I got hooked on it. I got hooked on Felicity, hooked on Buffy the Vampire Slayer, hooked on Sex and the City and The Sopranos." So why not write a series that someone else might get hooked on? And if she was going to do TV, why not "make a show I wanted to watch?"

Her initial pilot about charming, sexy war correspondents appeared to be primed for take-off at Touchstone, until the real war in Iraq shot it down. Then she heard through Touchstone that ABC was game for a medical show. Rhimes and her sisters have a soft spot for those programs in which they slice a person open, wrestle out a tumor the size of a watermelon, and then stitch 'em back up good as new. "There's something very sexy about surgery," Rhimes says. "You actually have your hands in someone else's body."

 

She got the folks at Touchstone intrigued about Grey's Anatomy by playing up the angle of newly minted surgeons who have to practice on somebody. Rhimes told Touchstone, "There's this saying in the medical community, 007-License to Kill, and it's everybody's worst fear." It played out in her pilot, when one of the interns, George [James Pickens Jr.], gets his first crack at wielding the knife, chokes, and nearly sends his patient straight from the O.R. to the morgue. Afterward, he slinks out, plunks down in a wheelchair, nervously rolling back and forth. His fellow interns call him 007 as he considers becoming a geriatric doctor, because "then no one minds if you kill a person." That's when a colleague delivers the speech that could be the credo for Grey's: "Surgery's hot. It's the Marines. It's macho, hostile, hard core. Geriatrics is for freaks who live with their mothers and never have sex."

"That entire scene was what I thought about when I [conceived] the show," Rhimes says with a smile. Just before Christmas 2003, she turned in her Grey's Anatomy pilot script and in early 2004 received the go-ahead.

Rhimes is always image-driven. When she gets a new assignment, she doesn't begin in earnest until a vision flickers in her mind. It might be the first scene of the script or something that happens at the end of the second act–a moment she can write toward or from. With Diaries II, it was a point late in the film, when an aide announces that "the eagle is flying for the last time" as the queen crowns the princess. And with Grey's Anatomy, she pushed forward not just with the 007 scene, but with another that she hopes will come years down the road: "I know what the last scene will be the last time the show ever airs on network television. I love [the fact] that I know that, and I'll hold it out and keep writing to it."

Sometimes inspiration drops in on her unexpectedly. Like the time she traveled through Tennessee with her mother a few years back, and they passed a row of trees and "completely out of the blue [my mother said], 'Oh, those willow trees are touching the ground. If you plant a weeping willow and you don't hang around long enough to tend its branches and they touch the ground, then you die.'" That visual gave birth to Rhimes' feature screenplay When Willows Touch, about a young girl discovering her brother's body in the family cornfield, a project she intends to direct one day.

The youngest of six, Rhimes was raised in University Park, Illinois, outside Chicago, in a family of storytellers who were "obsessed with reading." To this day, she has about 20 books by her bedside at any given time. Her appetite runs from trashy novels to serious literature. Recently she was nibbling on The Soul of a Chef, All Girls: Single Sex Education and Why It Matters, Invisible Man, and The Undomestic Goddess. At eight years old, she remembers reading John Fowles' The French Lieutenant's Woman but later, as an undergrad at Dartmouth, found herself drawn to the spoken word, acting in and directing plays. After graduation, she took a job in advertising, which she hated because "you're writing the things people are turning away from."

Eager to bolt, she applied to USC film school to return to storytelling, this time in a way that appealed to her like nothing else before. "I've never been able to finish [writing] a novel because it took too long," she says. "I love fiction, but I can't write four pages about the antique armoire. It just makes my head hurt. But screenwriting's very clean. It's action, it's dialogue, and that happened somehow to suit me."

She excelled at USC, earning the prestigious Gary Rosenberg Writing Fellowship, but after graduation got thrown onto that huge heap of Hollywood wannabes, all praying to sell that first script. Nearly two years passed as her bank account slipped into the red. She was on the verge of fleeing L.A., perhaps to pursue another advanced degree in a town slightly less Darwinian. "Medical school was one of my options," she recalls. "That now seems laughable since I am a germophobe and science-challenged." Finally, she found a taker for Human Seeking Same, an original screenplay about an older white woman who falls in love with a younger black man after answering the wrong personals ad. New Line bought it, and the script ended up at Intermedia. Positive buzz got Rhimes' name out there, and the phone finally began to ring.

Britney Who?

In 2000, months before she took on the Crossroads project, the buzz about Britney Spears somehow had not reached Shonda Rhimes. But she didn't have baby Harper yet. "At that point I was a person who didn't really watch that much television, didn't pay that much attention to who was on the radio." A producer friend convinced Rhimes that the project would be fun, and the next day the two of them were on a plane to catch the pop star's concert in Chicago. "We were sitting in the front row, and I looked behind me and the audience was filled with teenage girls–and gay men–who were madly in love with Britney. I suddenly found her fascinating–that kind of power [Spears wields] with young girls, the amount of devotion they had to her, made me see the possibilities in a movie."

For the script, Rhimes deemphasized Spears' megawatt persona and gave more gravity to an ensemble story. "I definitely felt [that] if there was any message I wanted that film to give, it was that friendships are powerful and can extend beyond race, class, and social standing." Sounds noble enough, but critics pounced on it. Rhimes swats off their bad reviews as a horse flicks flies from its tail. "I never thought the critics were going to say Crossroads was a brilliant movie. My goal was for 12-year-olds to think it was brilliant." In the end, everything worked out for Rhimes: "I became a rock star" to the preteen set and, even better, "that movie bought my house."

It's in that house in the hills of L.A. where Rhimes does much of her writing. She has a comfy home office and loves to tip-tap her Mac laptop with music swirling about her. She owns not only an iPod but also an iPod Shuffle, which mixes up her favorite tunes and plays them, as a radio station would, in an order she can't anticipate. She wrote Princess Diaries II listening to The Sound of Music. She cranked up Billie Holiday's burnished blues to channel Dandridge. And, of course, she spinned Spears 24/7 during the four months of scripting Crossroads. So it was fitting that music would be the arena where her first creative tussle took place as she moved from writer-for-hire to executive producer on Grey's Anatomy.

"I remember this situation with the music for the pilot," she says. "I wanted something more alternative, more rock–the stuff you hear in small clubs in L.A.–not necessarily stuff you'd hear on the radio. And I let myself lose the [music] battle at first." But when [executive producer] Betsy Beers came back from one of her international jaunts, she got word that the creator of Grey's wasn't happy about the music on her own pilot. "It was like I got overruled," Rhimes explained.

Nonsense, Beers remembers telling her: "Shonda pretty much didn't realize the degree of power that she had," Beers says. "What's the point of being executive producer if you can't pick the music?" She pointed out an invaluable lesson to the first-timer: "When [you're a showrunner] and you feel strongly about an element, there's a team of people around you who will support that feeling." But Rhimes had to practice putting her foot down, even if it was in a sparkly flip-flop with purple polish on her toes. So she stepped up, and for the second season everyone is clear that, aside from the show's theme by Danny Lux, Rhimes is the official deejay of Grey's Anatomy.

Executive producer Jim Parriott, perhaps the person Rhimes works most closely with, confirms this: "All the music that comes in the show, Shonda put in. We don't even try to go there," he says, throwing his hands up. "It's like, 'Nope!'"

The Inner Sanctum

"I just had a no-asshole policy," Rhimes says of her criteria for anyone hired on her show. Krista Vernoff, one of a dozen writers (mostly women) on Grey's, found her informal interview with Rhimes a hoot. "I knew I wanted this job when my entire interview with Shonda was a passionate discussion of what happened the night before on American Idol."

Each writer had to be similarly vetted through Rhimes' Cool Detector. "We have an amazing, talented writing staff, and they make the process incredibly fun and easy," Rhimes says, though she still prefers that the writers' room be run by Parriott.

Before the staff arrived for the second season, Rhimes and Parriott looked ahead, analyzing what Rhimes envisioned for the story arc. She joined Parriott during the initial weeks in the writers' room and then scaled back a bit, dropping in periodically or when summoned–though writers are free to breeze into her office to ask questions or run ideas anytime. Parriott reads first drafts, and Rhimes reads and gives notes on second and third passes. Then she puts a final polish on every script.

"Shonda carries a stiletto in her back pocket," explains Parriott, gesturing at his own hind quarters. "She has this wonderful, unique sort of funny dark side that I think is very special and is the voice of the show." And she is the last word on what a character will do and will not do, say and not say, think, wear, drink. For example, Vernoff remembers a script she wrote last year: "I had Meredith drinking beer. And Shonda's note was, 'Meredith doesn't drink beer.' I said, 'Really?' She said, 'No, Meredith is me. Meredith drinks cocktails.' Shonda's never wishy-washy. She knows who the characters are and communicates that very clearly, so you don't go through a lot of unnecessary drafts."

"Meredith is a lot of me," Rhimes admits. "I'm not white or blonde or thin, but she went to Dartmouth; I went to Dartmouth. She's competitive; I'm competitive. We both have very formidable mothers. My mother has a Ph.D in education; her mother is a surgeon." But then again, Rhimes' characters are all a bit like their creator, including George, who represents "the neurotic side of all of us: He's every time you've screwed up or been humiliated," she reveals. And Rhimes can be sharply to-the-point like Bailey [Chandra Wilson] or caustic like Cristina [Sandra Oh]. "Whenever people say I can't stand Cristina, I'm always a little bit hurt," Rhimes confides. "Cristina says things that I say all the time. Like a line from the script when George is talking about how excited he is about his job, and Cristina cuts him off with, 'Now, Bambi, don't say another word until after the hunter shoots your mother.'"

Beers asserts that Rhimes' characters are so well-defined because Rhimes herself is: "She knows who she is and is very, very comfortable in her own skin."

Occupational Hazards

The hardest part of the job, supervising producer Vernoff discovered, "is the hypochondria that goes with it. The things I know now about the human body and the medical system in this country, I never wanted to know."

Ditto for Rhimes, who realized six weeks into writing the show that her staff got a little queasy. "We all decided that every single thing wrong with us was the one weird medical case that we had read about. I had a weird little bump right there," Rhymes says, pointing to a spot between her thumb and forefinger, "and [I thought], It's a tumor. Fortunately, we had one [medical doctor] on our writing staff who was like, 'Please knock it off.'"

 

In his office, Parriott pushes away from a scene he is writing on his computer but still finds it hard to leave his "patient": "This guy is having his bowels run," he explains. "That's where they actually pull out the intestines and search for things in them." He curves his fingers around an imaginary colon, gently squeezing along its length. Tall, with blue eyes and a rugged, chiseled face, Parriott wears an olive long-sleeve shirt and khakis. His office features a town sign from Push, Nevada, one of the many TV babies he's either given birth to or executive produced during the past three decades.

"I think Shonda picked Seattle [as the hospital setting] because she was looking for something that felt like a city but also felt regional." Although Rhimes is from Chicago, she didn't want to go there for Grey's because big-city hospitals are on the cutting edge of medical advances, where relatively bloodless, robotic laser surgery is the next hot lick. Minimally invasive operations are great for real patients, but they make lousy TV. "Early on we can duck free of that," Parriott points out, adding, "there's something about watching people flayed open on the table that plays against the humor on the show."

Blood keeps Grey's pumping. But the strongest pulse is its themes. "We absolutely start with [one]," says Rhimes. "I think a theme unifies the whole piece, affects the medical stories, affects the fun stuff going on with the characters. Obviously [lead character] Meredith's voiceover is all about the theme."

When asked about Shonda's motivational skills, Parriott's blue eyes briefly drift to the green leaves outside his arched window. He takes a stab at it: "There's a great deal of courage in Shonda. She dives into the unknown. It's all forward motion with her, and that's very powerful. That's what makes her a good leader." But he can't nail her unique dynamic. "Call me later," he finally decides, then turns back to his computer where his patient is waiting to get his guts back in his body.

Chicks, Blacks & Other Hot Buttons

In an era when more and more books by women are dismissively shoved into the Chick Lit category, a few critics initially questioned if Grey's Anatomy, with its female lead, could get men to switch over from ESPN. Rhimes didn't worry if there'd be enough boys at the party. "It is a chick show," she says. "I'm sorry, but at the end of the day it's a chick show because it's a show I want to watch, and I have no problem with that. Dr. McDreamy [a nickname for series costar Patrick Dempsey] is Dr. McDreamy for a reason. It's not so that men can feel macho. He's dreamy so we can stare at our televisions, turn to our boyfriends, and say, 'Why don't you talk to me like that?'"

Even so, the show's demographics indicate that men tune in, as they did to Ally McBeal and do to Housewives. And it's also doing good business with the young, the old, the whites, the blacks...

Ah yes, the race thing. Rhimes, as you might have noticed from the photographs, is African American, making her the first black woman ever to create and executive produce an hour-long series that lasted longer than one season–or something momentous like that. Could that be the reason the three doctors in the top slots of her show are all black? Nope. "I basically walked in saying I didn't write anybody's race into the script," Rhimes answers. The actors who were ultimately cast–Ellen Pompeo as Meredith Grey, as well as Sandra Oh, Patrick Dempsey, Isaiah Washingon, and Chandra Wilson, among the nine series regulars–had to come in and wow the executive producers, Touchstone, and ABC. Although Rhimes did give this input: "Let's make Grey's look like the world.' "

Vernoff, who is white, believes Rhimes is not giving herself the gold star she deserves for having four of her nine leads be people of color. "I don't think I can state this too strongly," the staff writer asserts: "What Shonda has done in terms of race on ABC, right after [its biggest hit] Desperate Housewives, is revolutionary. With three black series regulars and an Asian patient, there might be no white people in a scene. That's quietly revolutionary. And she does this in such an unassuming way. Not coming in to scream and change the world but coming in to reflect the world as [she lives] it. That's going to have far-reaching ramifications."

Disney producer Debra Martin Chase, for whom Rhimes wrote Princess Diaries II and the upcoming All-American Girl and His and Hers, had a sense of Rhimes' potential impact early on. She snagged Rhimes as an intern more than a decade ago, when the latter was still in film school. Chase also got Rhimes her first Hollywood job as an assistant at Spring Creek Productions. "Debra taught me mostly by example," Rhimes says. "From her I learned to be confident. I learned that being powerful and successful doesn't mean you can't be kind and gracious." The two women have become friends. "We meet in the office, at our houses, in restaurants."

After initially putting her on as research director of a Hank Aaron film years back, Chase still taps Rhimes to write many of her Disney projects because she respects Rhimes' intelligence. "When Shonda has made any decision in a script, it's extremely well thought out. She didn't make it arbitrarily, and she's able to sit and discuss it." And each woman knows what it's like to walk a mile in the other's Manolo Blahniks. "[Shonda and I] both have bucked the system. We're both African-American women in situations where there aren't many others like us," Chase says of their bond.

Sister, friend, daughter, mother... Relationships are at the root of Grey's Anatomy and at the heart of its creator. "Now that I'm a mother, I see things a little bit differently," Rhimes explains. "I joke that I have one daughter and nine actors, not because actors are children in any way, but because you want to create that same nurturing environment where they can grow and work." She won't say much more about her baby girl. But if that mother-daughter tradition is on track, maybe in a year or so, when Harper is four, she'll borrow a tape recorder from her mom and begin to tell her own stories.