Captains & Stewards
Make sure your voice is heard
Since 2007 members of the Guild have volunteered their time, talent, and energy to serve as captains and stewards. These volunteers are responsible for communicating with and mobilizing a team of fellow writers to support the Guild's collective bargaining, enforcement, organizing, and public policy goals. Teams are organized in a variety of ways including worksites (writing rooms), or by genre, affinity group, or neighborhood. Field representatives from the Member Organizing Department convene meetings with captains and members in writing rooms, members' homes, and other venues. In the CBS news units, stewards serve the same function as captains and represent writers at each worksite. If you would like to explore serving as a captain or would like to be on a team, contact Member Organizing at (323) 782-4713.
Guild Democracy & Administration
Your vote matters!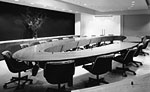 Your union is a democracy, and it needs your participation to succeed. The very least any member can, and should do, is vote. The WGAW is run by a Board of Directors and three officers: President, Vice President and Secretary-Treasurer. They are all writers, like you, and donate their time in service of the Guild. The Board members and officers are responsible for setting the Guild's agenda and priorities, implementing changes and initiatives, addressing member concerns, and strategizing for the future. See the current list of officers and board members and contact them here. The minutes from the Board meetings are available for download. The Constitution and By-Laws of the Writers Guild of America West contain the Working Rules that govern the Guild and its members.
Organizing
The WGA is more than just film and TV
Writers who work on non-Guild shows often face many workplace hardships without benefits like health care and pension benefits that their colleagues who work under WGA contracts receive. The most effective way to raise standards at work is to organize. To advance collectively we need each other. By standing together in an effective strategic campaign, writers will be able to negotiate contracts that will provide them with industry standard benefits. Thousands of U.S. workers throughout the country are engaging in this process to gain recognition and win a union contract.
Due to the combined efforts of the Organizing Department staff and WGAW Caucus members, the Guild has achieved success in organizing writers in the areas of animation, independent film, newswriting, nonfiction, videogames, reality TV & gameshows.
When you enter into an employment or purchase agreement on a theatrical, television, new media, or videogame project, ask for the deal to be Guild-covered, then contact Organizing in order for the Guild to negotiate an agreement with the production company.
Public Policy & the Political Action Committee
Reaching beyond Hollywood
The Guild's Political Department provides members with up-to-date information about critical public policy debates, and the WGAW's positions and involvement in a host of issues, including combating piracy, media consolidation, Internet freedom (net neutrality), and independent production. The WGAW is committed to an effective public policy program that protects the financial welfare and rights of creative talent, and advances the interests of writers.
The WGAW Political Action Committee (PAC) allows WGAW members to make voluntary contributions to a fund that works to elect public officials who are sympathetic to the difficulties of making it as a professional writer. Click on the link to get information, contribute, and get involved. (You must have a MyWGA account to view this page.)