Feature Writer Access Project
2012 Honoree Chuck Hayward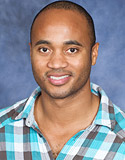 Chuck Hayward (Potluck) was born and raised in the entertainment mecca of Wilmington, Delaware. Tired of being the only black person in the entire state, Hayward got the hell out to attend Syracuse University's prestigious S.I. Newhouse School of Public Communications. At Syracuse he majored in Television, Radio and Film and minored in Overindulgence.
Upon graduating, Hayward moved to Los Angeles where he began working as an assistant to the Vice President of Spirit Dance Entertainment (headed by Forest Whitaker). From there he went on to assist producer Robert Teitel at State Street Pictures, working on the Fox Searchlight film, Roll Bounce. Deciding it was time to get closer to his true passion, writing, Hayward left the feature world and worked as an assistant on the CW network's pilot MILF & Cookies, then to the CW hit show Everybody Hates Chris, and on to the hit HBO show, Entourage, where he assisted the show's creator, Doug Ellin.
After years of assisting Hollywood power players and finally perfecting the arts of scheduling, coffee orders, kitchen stocking and lunch runs Hayward was hired as a staff writer for the Hulu original series, Ballerz. Then Hayward landed his first network staff writing gig on the NBC series Bent which aired in the spring of 2012. Afterwards, Hayward was hired to write a freelance episode of the Nickelodeon series, Fred: The Show, based on the popular children's Web series. Hayward then sold an untitled baseball project to Nickelodeon. He is currently a staff writer on the Nick at Nite sitcom Wendell & Vinnie (expected to premiere February 2013).
CONTACT: Chuck Hayward
CONTACT MANAGEMENT: Mikhail Nayfeld, Heroes and Villains Entertainment, (323) 850-2990