Feature Writer Access Project
2012 Honoree Dwayne Johnson-Cochran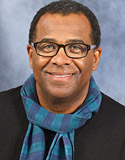 Dwayne Johnson-Cochran (Bibi) is a director, writer, producer, educator and journalist living in Los Angeles. He has written and is producing The Book of the Year, Angela Bassett s directorial debut to be co-produced by Bassett Vance Productions and T.D. Jakes; writing and directing BIBI to be produced by three-time Oscar-nominated director Sergei Bodrov (Mongol); co-wrote Maria with Sergei Bodrov, to be produced by AR Films.
His recent feature Love and Action in Chicago (currently in rotation on HBO) features Kathleen Turner, Courtney B.Vance, Jason Alexander, Regina King, and Ed Asner.
In 2009, Mr. Johnson-Cochran wrote, directed and produced Side By Side, a film about the dynamic 50/50 Group of Sierra Leone, West Africa executive produced by former Secretary of State Madeline K. Albright. In postproduction are the documentaries The Story of a Village about a small village in Kona, a small district in Sierra Leone, West Africa starring actress-producer Regina King; Be Known, a film on Chicago jazz innovator Kahil El Zabar.
My Tribe Is Lost, a film script sold to Steven Spielberg is in development at DreamWorks. Johnson-Cochran co-created the television series Minor Adjustments for NBC and was a staff writer on the series Angel Street, produced by John Wells for CBS.
Johnson-Cochran also wrote Frederick Douglass, a teleplay for Turner Network Television and Slam the Night, a teleplay for Fox Television Movies.
In journalism, Johnson-Cochran photographs appeared in The New York Times' Documenting the Decade section published in January 2010. He recently co-wrote the article The Rise and Fall of Angela Wallace for Essence Magazine with Time Magazine reporter David Thigpen.
Before working in Los Angeles, Johnson Cochran produced and directed documentaries, music variety shows, and public affairs programming for the PBS station in Chicago, WTTW 11. The projects include, Chicago Tonight (news producer) Going Home to Gospel With Patti LaBelle (producer), Babies at Risk, a follow up town meeting on the Frontline documentary on infant mortality in Chicago (producer); School Reform Power to the Parents, (associate producer). Johnson Cochran also wrote segments for the Westtown dramatic series in development at PBS. Along with the award-winning novelist An Chee Min, (Red Azala, Katherine), Johnson-Cochran was invited to the People's Republic of China to produce Stories from America, a 20 part television series, focused on the lives of Chinese American students, scholars and professionals living and working in the United States returning home for the first time.
Johnson-Cochran has been a visiting professor in the USC (Bill Cosby) Screenwriting Fellowship Program (2001-2012) and has taught screenwriting workshops in Kenya, Sierra Leone, Mozambique and Ethiopia, He has been a festival judge for the Chicago International Film Festival (two years); National Black Programme Consortium (1997-2000), Pan African Film Festival (2005-2009) and is a two-time winner of the Mentor of the Year award from the Fulfillment Fund, one of the largest mentor organizations in country.
Born in Chicago, Johnson Cochran earned a B.S. in Geophysical Sciences from the University of Illinois at Chicago. He attended the School of the Art Institute of Chicago in the master's program for filmmaking, is active in many community and civic based organizations. A lover of music, tennis, baseball and cycling, Johnson-Cochran returns to Chicago often to see family and friends.
CONTACT: Dwayne Johnson-Cochran, (323) 839-6955
CONTACT MANAGEMENT: Steven Siebert, Lighthouse Entertainment, (310) 246-0499