Feature Writer Access Project
2012 Honoree Zak Shaikh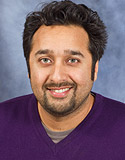 Previously working as a journalist in London, Zak Shaikh moved to Los Angeles to complete his M.F.A. in screenwriting at the University of Southern California, where he won a David Lean Foundation Award for his feature screenplay Arranged.
In features, Shaikh recently adapted Stephen Fry's novel, The Liar, funded by EU MEDIA Fund, and set for production in July and August 2013. He has also adapted A Matter of Honor, a best-selling action-adventure novel by Jeffrey Archer, and Cannon Fodder, based on the autobiography of celebrated BBC reporter, John Simpson, and his coverage of mercenaries in 1970's Africa. In TV, Shaikh was awarded a place on the Fox Diversity Initiative in 2006, and went on to work on the writing staff of the Starz series Head Case. In February 2011, Fox TV Studios optioned the pilot to his one-hour drama series, Runaways.
He was also recently commissioned to write a 10-episode Web series (Dominion) for a bespoke platform sponsored by Swarovski, Phillip Morris and Honk Kong Telecom.
Shaikh has a degree in economics & politics from the London School of Economics, and has been published in the LA Weekly, Fast Company, Reuters, C21 Magazine, and the Royal Television Society Magazine.
To request a copy of this script, please contact Bryan Brucks: bbrucks@luberroklin.com
CONTACT AGENCY: Jennifer Good, The Alpern Group
CONTACT MANAGEMENT: Bryan Brucks, Luber Roklin Entertainment