Feature Writer Access Project
2014 Honoree Galen Tong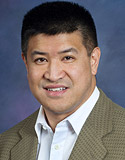 Galen Tong (The Monkey King) received his MFA from USC's School of Cinema-Television where he won the 20th Century Fox Screenwriting Fellowship and the MGM Writing Award. He was a staff writer with produced credits on a primetime network TV series and has written features for Sahamongkol Films, the Asian studio that produced the hit Ong Bak series of motion pictures. In 2003 and 2010, he was a finalist in the Disney/ABC Fellowship Program and in 2004 was a finalist in the CBS Mentoring Program.
His screenplay The Monkey King is the First Prize and Grand Prize Winner of the 2013 Beijing International Screenwriting Competition.
Galen was Co-Writer/Associate Producer on Discovery Channel's, Alpha Company: Iraq Diary, which focused on US troops in Fallujah. Although not an aspiring actor, he has performed as principal characters in two productions directed by David Mamet. Most recently, he was Director of Production at a division of Spike TV.
TO READ THE SCRIPT, CONTACT GALEN TONG
CONTACT: Galen Tong