Feature Writer Access Project
2014 Honoree Nayan Padrai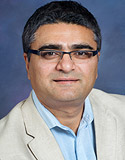 Nayan Padrai (Billion Dollar Raja) is an award-winning filmmaker, who lives in Los Angeles. Padrai co-wrote, produced, and directed his first feature film When Harry Tries to Marry. Padrai s next feature directing project is Billion Dollar Raja.
Born in Mumbai, and raised in Forest Hills, New York, Padrai studied screenwriting and acting at the School of Visual Arts, NYC. He has written numerous screenplays, which have received recognition from various contests and festivals, including acceptance into the Sundance Producer s Lab. He adapted the bestseller Beneath a Marble Sky for Eric La Salle s production company.
Aside from writing new material for film and television, Padrai is producing several projects for his shingle 108 Production. He has been a guest speaker at Ithaca College, Pace University, and Stonybrook University, and written guest blogs for IndieWire, Filmmaker, and The Wall Street Journal.
TO READ THE SCRIPT, CONTACT SHEETAL YVAS OR BRAD ROSENFELD AT PREFERRED ARTISTS
CONTACT: Nayan Padrai, (818) 538-4108, Sheetal Yvas, (917) 302-4964
CONTACT REPRESENTATION: Brad Rosenfeld, Preferred Artists, (818) 990-0305