Feature Writer Access Project
2014 Honoree Q. Terah Jackson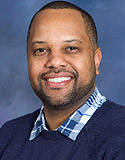 Q. Terah Jackson (Rustin) 2012 AFI Conservatory alumnus, Terah Jackson is a writer and director of film, television and theater. His feature project, Rustin is a 2013 Nicholl's Top 50 screenplay and gained Jackson inclusion in Film Independent's 2012 Project Involve Program. His science fiction saga, Julius-X On Dying Earth, has attracted the attention of the Sundance/Sloan Program. Jackson was a participant in Lincoln Center's 2008 Director's Lab; a four-time grant recipient from the D.C. Commission on the Arts and Humanities, and is a graduate of Howard University with a B.A. in philosophy and a minor in anthropology.
While studying at AFI's conservatory, Jackson wrote and co-wrote five short films, two features and two TV pilots. During his time as an intern for Participant Media's narrative department, he gained insight into the creation of films that inspire and entertain. Deeply influenced by his love of theater, Jackson directed then adapted an improvised play into the riotous half-hour comedy pilot, St. Carmichael's Playhouse. He is currently directing a film based upon the critically acclaimed stage play, Meena's Dream, which was written and performed by Anu Yadav at the Forum Theatre.
Jackson's experiences as an educator, actor, and business analyst in Washington, D.C continually inform his storytelling, often showing up as poignant scenes in his biopics or humorous metaphors cutting the suspense of his science fiction. A constant theme through his work is characters who face injustice and fear with the empathy and creativity necessary to achieve a greater good.
CONTACT MANAGEMENT: Sonia Gambaro, (323) 363-5451