Feature Writer Access Project
2014 Honoree Radha Bharadwaj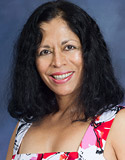 Nicholl Screenwriting Fellowship winner Radha Bharadwaj (Final Boarding) is the writer-director for Closet Land, a powerful two-hander on state-sponsored tyranny that is set in a single room. Starring Madeleine Stowe and Alan Rickman, Closet Land was produced by Imagine Entertainment and released by Universal, making Bharadwaj the first director of Indian descent to have a feature released by a major Hollywood studio. Closet Land was feted at key festivals like the Toronto International Film Festival and San Sebastian International Film Festival.
Bharadwaj adapted Closet Land for stage, and the theatre version continues to be performed by theatre companies all over the world.
Her second feature as writer-director is the Victorian Gothic mystery, Basil. The film, which was chosen for closing night slot at the Toronto International Festival's Special Presentation series, stars Jared Leto, Christian Slater and Sir Derek Jacobi.
Bharadwaj, who writes literary suspense novels, is also developing concepts for television.
CONTACT REPRESENTATION: David B. Cohen, (310) 729-4892