Feature Writer Access Project
2014 Honorees Tianna Majumdar-Langham and Chris Bessounian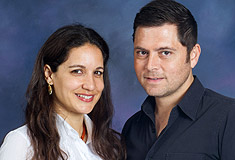 Tianna Majumdar-Langham and Chris Bessounian (Guns and Saris) won the 2011 Academy Nicholl Fellowships with Guns and Saris. Their screenplay, Butcher of Bosnia, reached the Top 30 in the same year.
In 2008, they won a BAFTA/LA Student Award for their short film, The Kolaborator, which screened in over 50 film festivals worldwide.
They are currently writing a number of international projects, including The Neighbor, a thriller set in Switzerland for Amka Films, and Cristina and Violetta, a Swedish/Italian co-production for producer Peter Kropenin. They've just completed A Perfect Terrorist, their Academy Nicholl Fellowships' year screenplay, and are developing a number of other film and television projects.
Tianna is British/Indian and grew up in England, India and the U.S. Chris was born in Sudan to Egyptian/Armenian parents, though his family fled to Australia after a military coup. They both currently live in Santa Monica.
CONTACT: Tianna Majumdar-Langham
CONTACT REPRESENTATION: Jermaine Johnson, 3 Arts Entertainment, (310) 888-2118