Feature Writer Access Project
2015 Honoree Bo Yeon Kim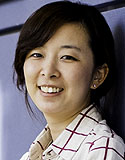 An international nomad who grew up in Portugal, Brazil, Vietnam, Korea, and Japan, Bo Yeon Kim's journey continued as an anthropology/archaeology major at Bryn Mawr College – going on excavations in Eastern Europe and the Middle East – before her desire to write guided her to Los Angeles.
Bo Yeon received her MFA in Screenwriting from UCLA's School of Theater, Film and TV. She participated in the prestigious CBS Writers Mentoring Program, as well as the CAPE (The Coalition of Asian Pacifics in Entertainment) New Writers Fellowship. With her writing partner Erika Lippoldt, Bo Yeon is currently a staff writer on The CW's Reign.
TO REQUEST A COPY OF THIS SCRIPT, PLEASE CONTACT ADAM PERRY OR PETER MCHUGH.
CONTACT: Adam Perry, APA, (310) 888-4200 or Peter McHugh, Gotham Group, (310) 285-0001