Feature Writer Access Project
2015 Honoree Jill Isaacs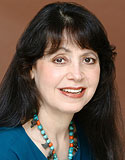 Jill Isaacs is a bi-lingual and bi-cultural native of Los Angeles.
Her script Angel's Flight, which she describes as a Latin-flavored Chinatown, was a featured script on the Hollywood Black List in August of 2015.
In addition to writing for film and television, Jill distributes World Cinema throughout the Spanish-speaking world. As Chief of Acquisitions for Cine Mundial, she collaborates closely with Cineteca Nacional to bring foreign and art house films to Mexico. She is also the architect and library curator for two new Subscription Video on Demand channels, World Cinema and Films of the Spanish-Speaking World.
For her next project, Jill is developing a limited series for Pay TV, a sexy thriller set against the complex morality of the international art world.
CONTACT: Jill Isaacs, (323) 655-7919