Feature Writer Access Project
2015 Honoree Kat Smith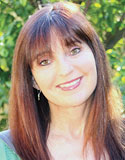 Kat Smith got her first break in episodic television, working with producers such as Tom Fontana and Georgia Jeffries. She's written for ABC, NBC, CBS, Fox/FX and STARZ!/Encore.
Her first feature spec sale was to Warner Bros., with Robin Wright to star and Wendy Finerman producing. Assignments include a biopic for Jodie Foster/Canal Plus, an historical intrigue for Universal/Rafaella DeLaurentis and an Almodovar adaptation for Spring Creek/Warner Bros.
She's currently working on a project for Patricia Heaton/Four Boys Films. Double Nickel Entertainment optioned her feature, Cloud 9; Liam Neeson recently signed on as the lead.
Her award-winning directorial debut, The Clearing, starring Titus Welliver/Laurel Holloman enjoyed a long life on the festival circuit, aired on IFC, PBS, two airlines, and released on DVD by FilmFest.
Honors: 2 screenwriting awards; a NYFA grant; Millay Colony fellowship; AFI's Directing Workshop for Women; Film Independent's Directors Lab; Filmmaker magazine's "25 New Faces to Watch." Chair, WGAW Activities Committee/Lake Arrowhead Retreat.
CONTACT: Kat Smith