Feature Writer Access Project
2015 Honoree Natalija Vekic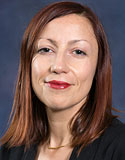 Natalija Vekic is a screenwriter and director whose short film, "Lost and Found" won a Golden Gate Award at the San Francisco International Film and was the recipient of the Princess Grace Award and a San Francisco Individual Arts Commission Grant.
A recent graduate of the UCLA MFA screenwriting program – Natalija received the Executive Board Award Fellowship, a UCLA Graduate Fellowship and was one of eight writers selected to work with Academy Award-winning screenwriter Dustin Lance Black in a feature screenwriting seminar. She researched and wrote Jane, which was invited to participate in the Film Independent Screenwriting Lab. She is the co-director and co-writer of "Ed & Pauline" a short doc, which premiered at the 2014 Telluride International Film Festival. Natalija is currently working on Bop City a pilot about the smoky, sexy, seedy, and vibrant Jazz scene of 1950's San Francisco Fillmore district before it was destroyed by redevelopment.
TO REQUEST A COPY OF THIS SCRIPT, PLEASE CONTACT NATALIJA VEKIC.
CONTACT: Natalija Vekic, (415) 307-9849