Feature Writer Access Project
2016 Honoree John Lau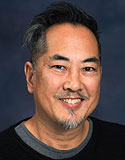 John Lau was also one of the Dramatic Honorees in the 2014 TV Writer Access Project. His experience in both feature development and television is as breathtaking as it is perplexing. His plotting skills and insight into character is now so advanced that he can accurately predict the future within a 67% margin of error.
He will make whoever elects to be his representation wealthy beyond human imagination.
His debut novel Phantom Pain is available on Amazon for $2.99.
CONTACT: John Lau, (310) 428-2603