Feature Writer Access Project
2016 Honoree Karol Ruth Silverstein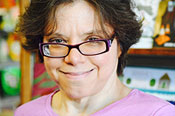 Karol Ruth Silverstein is a screenwriter and writer of various genres of children's books.
Originally from Philadelphia, Karol moved to Los Angeles to attend the American Film Institute as a Producing Fellow in 1990.
After a brief stint working in production, she turned her focus to writing. She has sold several short scripts to cable TV, and her feature scripts have placed in several competitions, including the Nickelodeon Fellowship. Her screenplay You're My Best Friend, about two young sisters circa 1975, was developed in the Film Independent Screenwriters Lab and gained her entry into the Writers Guild, where she is active on the Writers With Disabilities Committee.
Karol's children's book manuscripts have garnered several awards. She is represented as a children's author by Jen Linnan of Linnan Literary Management, and they currently have a young adult novel and picture book manuscript out on submission.
CONTACT: Karol Silverstein, (323) 874-1423