Feature Writer Access Project
2016 Honoree Puja Maewal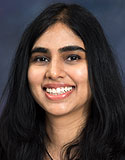 Puja Maewal is an Indian American writer-director from Texas. Her UCLA thesis film Jaya was a semi-finalist in the Student Academy Awards and a Jury Award Winner at the Directors Guild of America Student Awards; it screened in over 40 film festivals across the world. Her feature screenplay of Jaya, based on her short, was also selected for Film Independent's Screenwriting Lab. Puja wrote Jaya as a Fulbright Scholar in Mumbai, India, where she lived for three years.
Recently, Puja was one of six filmmakers chosen to direct a short film, called Castor Oil, for Film Independent's Project Involve Fellowship. In addition, her short "Sidekick," set in Los Angeles, was a Student BAFTA U.S. Finalist and premiered at Comic-Con. Her work has been recognized by the National Gallery of Art, the Caucus for Producers, Writers & Directors Foundation, and CINE. She has also developed content for several production companies, including BBC Worldwide, where she served as a Supervising Producer.
Puja previously took part in the Directors Guild of America's Asian American Mentorship Program. Most recently, the American Institute of Indian Studies awarded her with a Creative Arts Fellowship in Mumbai. She holds a B.A. from Yale University and an M.F.A. from UCLA.
CONTACT: Puja Maewal