Feature Writer Access Project
2016 Honoree Radha Bharadwaj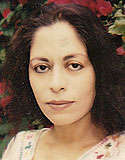 Indian-born Radha Bharadwaj is an award-winning feature film writer-director.
Bharadwaj's screenwriting and directing feature debut is the psychological drama Closet Land. Her screenplay won the Nicholl Screenwriting Fellowship. The film starred Alan Rickman and Madeleine Stowe. Oscar-winning director Ron Howard's Imagine Entertainment produced the feature, which was released by Universal Pictures.
The film was featured at major film festivals such as the Toronto International Film Festival and San Sebastian International Film Festival. Bharadwaj's stage adaptation of Closet Land continues to be performed around the world.
Bharadwaj's second feature is the Victorian gothic mystery, Basil, starring Oscar-winner Jared Leto, Christian Slater, Derek Jacobi and Claire Forlani. The director's cut for Basil was chosen to be the closing night film for the Special Presentation series at the Toronto International Film Festival.
Bharadwaj is currently working on a true-life feature based on an Indian scientific accomplishment. She's partnered with a prominent Mumbai film company.
CONTACT: David B. Cohen, Attorney