2017 Feature Writer Access Project Honoree
Bayan Walcott
MINORITY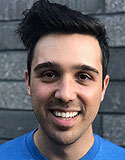 Bayan Wolcott is coming off the second season of FX's American Crime Story and a successful run before that as Kevin Williamson's assistant where he worked his way up to writing and producing an episode of Kevin's ABC show Time After Time. He graduated from the University of Southern California in 2012 with a B.F.A. in writing for screen & television. He started his career as a P.A. on Terrence Malick's film Knight of Cups then transitioned into an assistant position at ABC Studios. Since then he's worked closely with mentors in addition to Kevin such as Brad Simpson, Nina Jacobson, Neil Meron, Craig Zadan, Caroline Dries, and Daniel Thomsen. Bayan is a gay Persian-American writer originally from Gilbert, Arizona.
Go to Hell, Tina Rhodes
A popular high school mean girl must solve what happened to her after she wakes up as a ghost. And because karma's a total bitch, the only person who can help her is the artistic loner she bullied all through school.
To read this script, contact the agency below.
CONTACT: Zadoc Angell, Chelsea Benson, Echo Lake Entertainment, (310) 789-4790