2018 Feature Writer Access Project Honoree
Joanna Philbin
WOMEN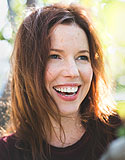 Joanna Philbin is a screenwriter and director. Her lifelong fascination with the romance between Fleetwood Mac band members Stevie Nicks and Lindsey Buckingham inspired her to write Go Your Own Way, which she calls a "relationship biopic." She recently directed a proof-of-concept short film based on her script. She has also written and directed a comedic short starring Paul Lieberstein.
Joanna is also the author of six young adult books published by Little, Brown and Company, including The Daughters, an acclaimed series based on her experience growing up in the shadow of a famous parent. Her books have sold a combined total of 250,000 copies and have been published in six languages. She holds a B.A. in English from Brown University and a J.D. and an M.F.A. in Creative Writing from the University of Notre Dame.
She lives in Los Angeles with her daughter.
Go Your Own Way
A young Stevie Nicks struggles to become a singer/songwriter in early Seventies L.A. while in a tumultuous relationship with future Fleetwood Mac guitarist Lindsey Buckingham.
To read this script, contact the following representative.
CONTACT: Joanna Philbin