2018 Feature Writer Access Project Honoree
Tara Atashgah
MINORITY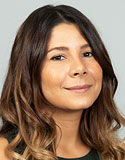 Tara Atashgah is a writer and director in Los Angeles. Originally from Iran, Tara moved in pursuit of a film career. She has a BA in Film Production and an MFA in Screenwriting.
Under an Olive Tree is her ensemble, feature script about the Israeli-Palestinian conflict. It became a finalist at the 2015 NBC-Universal Emerging Writers Fellowship.
Her thesis film For The Birds, about a Juvenile's execution, was screened at over 40 film festivals. Tara won a dozen prestigious awards such as Best Student Female Director from the DGA, Student Emmy Award from the Television Academy Foundation and an Oscar qualifying award from the Cleveland International Film Festival.
Tara's goal is to shed light on social and humanitarian issues through her films, while keeping them entertaining. Having a multi-cultural background and speaking 3 languages has given Tara a broad perspective, which helps diversify her storytelling.
Under an Olive Tree
Under an Olive Tree is the story of a tragic collision between families from Israel and Palestine. Caught in the crosshairs of hate, they're saved by a bullet that stole one child's life resurrecting hope for a new tomorrow.
Script available to read upon request
CONTACT: Tara Atashgah, (424) 537-8116