2018 Feature Writer Access Project Honoree
Willie J. Hagan
60 AND OLDER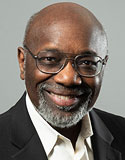 Ph.D. in psychology, 10 years as a political lobbyist, many as a university vice president and recently retired university president. Clearly, this was all preproduction for my life as a writer.
M.F.A. in Screenwriting from UCLA. Adapted the novel Darkfall, written by British author, Stephen Laws, for Dimension Films. Developed my original script, Frame of Mind, with input from director Renny Harlin.
Adapted the novel, June Bug by Chris Fabry, with director Ian McCrudden. Script was produced and premiered on the Lifetime Movies network.
Currently developing a television pilot about the behind the scenes, politically charged and high stakes world of a university president; best described as House of Cards in the world of higher education. Also exploring the feasibility of developing my script, The Furies, into a television series.
The Furies
Three sisters with the psychological ability to make people experience the pain they've inflicted on others try to uncover the secrets of their past while evading a government agent intent on controlling them.
CONTACT: Willie J. Hagan, (714) 318-8583