2017 TV Writer Access Project Honoree
Eddie Quintana
COMEDY/MINORITY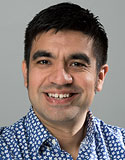 Eddie grew up in Rosemead, a Mexican-American suburb of L.A. He went to a predominantly white, all-boys Catholic high school, where he learned to be bilingual—white on the weekdays, Mexican on the weekends. He spent his summer vacations working at his dad's Spanish-language nightclub in Fresno.
After high school, Eddie graduated from USC with a degree in film production. He's also studied and performed improv at ComedySportz, iO West, Groundlings, and the Wisconsin Game Center. After working as a P.A. on features, Eddie became a writers' assistant on the sitcom Shake It Up. He wrote episodes of Shake It Up and I Didn't Do It before becoming a staff writer on K.C. Undercover.
He has seven brothers and sisters, all younger and taller than he is. He loves maps, the Dodgers, and all-you-can-eat Korean BBQ.
City #2
After the zombie apocalypse, the government gathers 1,000 of the country's leaders in art, science, culture, and politics and puts them in a fortified city to ensure their survival. This show is not about those people. City #2 is a single-camera comedy about everyone else. It's about the regular people—average-looking, average-intelligence, slightly racist—who built their own city just a hundred miles down the road and are doing their best to survive.
CONTACT: Sheree Guitar, Sheree Guitar Entertainment, (310) 286-1900