2017 TV Writer Access Project Honoree
Donald Joh
DRAMA/MINORITY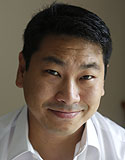 Don got his start as an editor. He cut his teeth editing straight-to-video movies before earning his MFA in Cinema & Television at USC. After film school, he continued developing his storytelling craft both on the page and by editing on shows like The Office and House. A spec pilot lead to his first staff writing job on Covert Affairs for USA Network. His drama pilot, The North, was a 2016 WGAW TV Writer Access Project honoree and was also selected for the 2016 Sundance Episodic Story Lab.
Don recently staffed as a story editor for a new series on Amazon.
Mulberry
A charming sociopath upends the life of a mild-mannered accountant when he blackmails him into an elaborate con game.
CONTACT: Elizabeth Newman, CAA, (424) 288-2000; Zadoc Angell and Amotz Zakai, Echo Lake Entertainment, (310) 789-4790