2017 TV Writer Access Project Honoree
Mollie & Ben St. John
DRAMA/WOMEN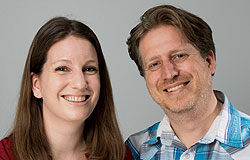 Mollie and Ben originally met in a TV writing class. Ben made his move on Mollie by asking her to read his material and give him notes. They started writing as a team shortly after they married in 2010. Mollie and Ben were on the writing staff of ABC's Nashville for two seasons and had the opportunity to produce their episodes on set. Prior to being on staff, they wrote and produced two Nashville freelance episodes. Mollie and Ben were finalists in the 2014 Disney ABC Writing Program.
Mollie is from the Washington, D.C. area. She has also lived in Ghana, Russia and Philadelphia. Her first job in television was working as a researcher on The Dr. Phil Show. From there she worked as an assistant on CBS's Medium, ABC's Scoundrels and Starz's Boss before landing on Nashville.
Ben grew up in Tulsa, Oklahoma. He has lived in the UK and Chicago. Ben's background is in post-production. He produced and edited material for National Lampoon including an American Film Market sizzle reel. Additionally, he was the assistant editor on the feature film, Two Shadows. Ben has written and directed several shorts.
Mollie and Ben have both been writing since they were children. Mollie wrote dramedies with her sisters—The Bickley Girls Go To Hawaii Parts 1 & 2 were particularly big hits. Ben wrote and sold horror stories in which his main characters always ended up decapitated. Mollie and Ben's writing together is somewhere in the middle.
City of Children
In the city of children, kids don't grow up to be adults—they evolve into monsters. Society is built around that evolution—young children kill their parents when they start to turn, 12-year-old girls are encouraged to procreate, and one's worth to the society must be proven daily. It's the power dynamics of Game of Thrones in a post-apocalyptic Lord of the Flies world...until our hero, Anne, makes a discovery that could change everything.
CONTACT: Anne Damato, Rain Management Group, (310) 954-9520