2017 TV Writer Access Project Honoree
Peter Hume
DRAMA/LGBT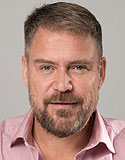 A native of Toronto, Peter began his career working with Daniel Petrie, Jr. (Beverly Hills Cop). They developed several film and television projects, including the television series, Stick With Me Kid (Disney) which filmed in London, and starred Sir John Gielgud.
Peter went on to write for several dramas, including Charmed (CW) and The Invisible Man, Primeval New World, and Olympus (Syfy). He also helped develop the series, Young Merlin (BBC).
His television pilots, including Toe Tags (ABC), Get Back Guys (NBC). In 2007 he developed and executive produced Flash Gordon (Syfy). His feature work includes Cruel Intentions II (Columbia/TriStar), and The Ugly Truth (Columbia/TriStar).
Peter's Canadian efforts includes the Showcase Movie, Jack Of Diamond's for which he received a best writing Gemini nomination in 2011. He has also written the pilots, The Butterfly Effect (CTV) The Cure (Shaw).
Righteous Texas
"Puts the blood, in blood relatives."
In a small West Texas town, two cousins—one a sheriff's deputy and one the owner of a gun superstore—find themselves on opposite sides of a gun trafficking investigation. When the Feds descend on on this quiet town, the powderkeg blows, threatening to expose old wounds that have divided the family for decades.
CONTACT: Kyle Loftus, APA, (310) 888-4277; Stan Spry, The Cartel Management, (323) 654-3333