2017 TV Writer Access Project Honoree
Rachel Feldman
DRAMA/WOMEN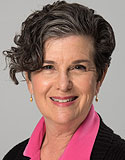 In addition to being a screenwriter, Rachel is also an accomplished television director with more than 60 hours of episodes and movies to her credit. Her feature Fair Fight, an Athena List winner (the Blacklist for screenplays featuring female protagonists) is being produced by Double Nickel Entertainment, and Kinks, one of this year's TV Writer Access Projects, was also chosen as a WGA Drama Queens best spec pilot winner. Rachel has sold movies to Lifetime Television and Freeform and is working on pilots and pitches that range from science fiction, to thrillers, and family drama.
Rachel just wrapped Here Now, a magical reality she wrote and directed starring Amy Brenneman, shot by the 2017 ASC President's Award winner Nancy Schreiber. Rachel has taught directing and screenwriting in the MFA program at USC.
Kinks
A maverick sex therapist who teeters on the slippery slope of ethical justifications for the sake of her patients, breaks taboos of every kind in the search for human connection.
CONTACT: Jeff Thal, Ensemble Entertainment; Gregg Ramer, Loeb & Loeb