2018 TV Writer Access Project Honoree
Ryan Sandoval
COMEDY/MINORITY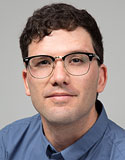 The son of a factory worker and a lunch lady, Ryan Sandoval grew up in the blue-collar beach town of Ventura, California. Drawing newspaper cartoons in community college, he went on to earn a B.A. in English from UCLA. He spent his following years working customer service at a playhouse and recapping television episodes online, paying special attention to story, theme and character in popular comedies and dramas.
He then scripted content in the budding field of new media for Fox, with live-action comedy Bad Samaritans. He went on to co-create the animated pilot Supanatural for Amazon Studios and Fancy Bastards at MTV working with award-winning cartoon studio Titmouse Inc. As part of the same writing team he scripted animated pilot The Fuggets for FX Networks, now in development with Chernin Entertainment.
Most recently he was a staff writer on the television show Heathers for the Paramount Network.
The Stadium Usher
When an overzealous stadium usher at a historic ballpark questions his purpose in life, the minimum wage employee embarks on a quest of self-discovery. This hero's journey is Field of Dreams by way of customer service—a timeless epic told through the unseen venue workers who make American's favorite pastime happen. A saga about our existential need to make a difference, and the one man who did. Also he helps fans find their seats.
CONTACT: Josh McGuire, Underground Management, (323) 930-2830; Theresa Kang-Lowe, Matt Balick, WME, (310) 285-9000