2019 TV Writer Access Project Honoree
Anne Gregory
COMEDY/WOMEN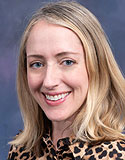 Anne is a writer and comedian. She has written on TruTV's scripted comedy Those Who Can't, Adult Swim's The Sheriff, MTV's Punk'd and for Awesomeness TV. In addition, she wrote a feature musical comedy for State Street Pictures and Robert Kraft called No Can Do and is developing the dark comedy Fucked with Iron Ocean and Cartel Entertainment. An Upright Citizens Brigade Theater alum, she has performed sketch and improv there and wrote and directed her one woman show Working Girl: A One Woman Rock Opera at UCB. Anne also acts and was a series regular on Punk'd and starred in the Paramount comedy feature Drunk Wedding.
Raised in Milwaukee, Anne got her B.A. in drama and medieval studies from Stanford University. She lives in Los Angeles with her husband and their two young kids. She is with Mike Goldberg, Tasha Brown, and Kyle Loftus at APA and Michael Pelmont and Matt Ochacher at New Wave Entertainment.
Fucked
Fucked is a half-hour, single camera dark comedy about a married couple who copes with the husband's terminal illness by opening up their marriage, precipitating an awkward and disastrous chain of events for the entire family... especially when the husband doesn't die.
CONTACT: Anne Gregory; Michael Pelmont, New Wave Entertainment, (818) 295-8028