2019 TV Writer Access Project Honoree
Cindy Appel
COMEDY/WOMEN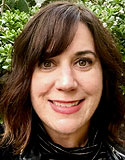 Cindy has produced credits in both drama and comedy, including Desperate Housewives and The Odd Couple. She has been staffed on the Freeform comedy Young & Hungry, NBC drama Heartbeat, and CBS comedy Superior Donuts. Cindy's half-hour comedy pilot I Might Die in China was highlighted in the 2016 Staffing Survey of industry reader's favorite pilots and her one-hour drama pilot Sub Rosa was in Slamdance's top 25 and was a semi-finalist in Final Draft's Big Break competition. As a graduate of UCLA'S MFA screenwriting program, Cindy also has a feature-writing background and sold the original holiday comedy feature The Little Drummer Girl to Freeform.
Born and raised around the intelligence/foreign service community in Washington D.C., Cindy has a healthy wanderlust which has led to working abroad everywhere from Scotland to a Chinese fishing village. She is not a spy.
Ride or Die
A cautious, Prius-driving young intern struggles to impress her new bosses—Dominic Toretto and his famous crew. Based in the Fast & Furious universe, this action comedy zooms past the high-octane heists of Dom's team and into the world of the harried interns who cover the details, whether it's getting coffee or asking the dry cleaner how to get brain matter out of white t-shirts.
CONTACT: Cindy Appel; Josh Adler, Julian Rosenberg, Circle of Confusion