2019 TV Writer Access Project Honoree
Kate Spurgeon
COMEDY/WOMEN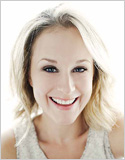 Kate began her career as an actor, earning her MFA from Penn State University. But once she realized actresses weren't allowed to snack, she became a comedy writer. Kate's pilot Bloom was a finalist at the Austin Film Festival, she is an alumna of the Warner Bros. Writers' Workshop and co-created the web series Peaked in High School. Her most recent credit is the Netflix reboot Fuller House where she spent two seasons. Kate loves innovative character-driven storytelling and rescue animals.
Currently, Kate is in development with Gaumont TV.
Rx
When an overmedicated housewife is recruited by a charismatic drug rep, she escapes her suburban malaise to enter the "wild west" of pharmaceutical sales in the 1990s.
CONTACT: Kate Spurgeon; Glenn Cockburn, Conrad Sun, Meridian Artists, (310) 479-2777