2019 TV Writer Access Project Honoree
Lena Kouyoumdjian
COMEDY/MINORITY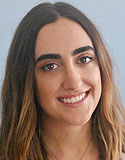 Originally from the San Francisco Bay Area, Lena Kouyoumdjian is the only child of two eccentric parents—one, an Armenian immigrant via Iraq; the other, a California hippie. After a childhood spent reading Agatha Christie novels, writing plays, and maintaining her first chair status in the local youth orchestra until it was usurped by an 11 year-old, Lena moved to Los Angeles to attend USC, where she earned dual degrees in theater and public relations. After graduation, Lena was a member of an experimental theater group before shifting her focus solely to writing.
Lena has written for various online publications including The Huffington Post and Red Bulletin, and as the Kardashian family for their personal blogs—which was exactly what you're probably imagining. She was on the writing staff for Go90's The Elite Daily Show and was most recently a staff writer on Disney Channel's Coop & Cami Ask the World.
Lena currently lives in Echo Park.
Party Girls
The disastrous mishaps of two millennial women who have nothing going on— but are always up to something.
CONTACT: Lena Kouyoumdjian; Brandy Rivers, Industry Entertainment, (323) 964-9298