2019 TV Writer Access Project Honoree
Adam Rodman
DRAMA/55 AND OLDER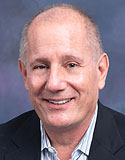 My father was a Commie screenwriter from Brooklyn, and my mother escaped an oppressive, working-class Boston world to become an actress. The odds that my life would turn out anywhere near normal were pretty slim. Writing has allowed me to explore the cracks in the world, and occasionally to arrive at a piece of work that speaks to the forces which shaped me, and perhaps all of us.
Promises to Keep is the result of my lifelong concerns about the racial and class inequities that remain a deep, open wound at the very heart of America. Now as much as 150+ years ago, the story of one man's unrelenting determination to rise from literal and personal ruins seems essential not only to our self-knowledge, but also to understanding what we can be if we free ourselves from a history of fear and hatred.
Promises to Keep
Set in the aftermath of the Civil War, Promises to Keep follows former slave CJ Riddell as he searches for his wife and children, who have been sold away over the years. CJ must deal with the detritus of a devastatingly brutal conflict, a Reconstruction that is nothing more than a hollow promise, and a family who regard him as a stranger.
Through all of this, somehow, with no practical reason to believe in the possibility of a better life, CJ perseveres.
CONTACT: Adam Rodman