2019 TV Writer Access Project Honoree
Anya Leta
DRAMA/WOMEN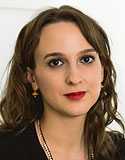 Anya Leta's writing credits include Homeland on Showtime and her award-winning short film Points of Origin, shot in Mumbai. As a staff writer on Season 7 of Homeland, she co-wrote two episodes, "Standoff" and "Species Jump." Her short film "Points of Origin" played at film festivals around the world and was also selected as a Vimeo Staff Pick and Short of the Week. While obtaining her MFA from NYU Tisch School of the Arts Asia, Anya lived and worked in both Singapore and Mumbai, India.
Anya is currently working in development on a television project with FremantleMedia and frequent collaborator Ron Nyswaner.
Points of Origin (script available upon request)
RJ, a New Yorker trying to have a child with his partner Tal, returns home to India and hires a surrogate mother. When his prospects become grim, RJ has to turn to his estranged brother, who threatens to pull him back into the criminal underworld he thought he had left behind forever—until now. An international surrogacy thriller set in Mumbai, India.
CONTACT: Anya Leta; Alan Rautbort, Circle of Confusion, (310) 691-7000