2019 TV Writer Access Project Honoree
Jai Tiggett
DRAMA/MINORITY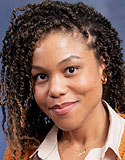 Jai Tiggett is a writer, producer, and Florida native. She wrote two episodes of Spectrum crime drama L.A.'s Finest starring Gabrielle Union, Jessica Alba. Previously, she wrote Flyy Girl, a Lionsgate feature film based on the young adult novel series of the same name. Jai is a film school graduate of Florida State University and UCLA and she completed screenwriting fellowships at FOX and USC. She began her career in independent film before transitioning to Hollywood.
Black Magic (script available upon request)
The story of the rise and fall of the 1920s Harlem Renaissance arts movement, told through the eyes of its rowdiest disruptor.
CONTACT: Jai Tiggett