2019 TV Writer Access Project Honoree
Lisa Long
DRAMA/WOMEN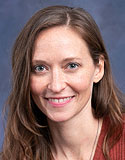 Lisa Long grew up in a small town on the Gulf Coast of Florida, then went on to Princeton University and USC's MFA program in film production. She was most recently on the writing staff of The Act from UCP/Hulu. Before that, she co-wrote three episodes of Nick Antosca's horror anthology, Channel Zero, where she started out as the script coordinator. As an assistant, she worked on the final season of NBC's The Office and on Aaron Sorkin's HBO drama The Newsroom. One of her screenplays was a finalist for the Sundance Screenwriters Lab, and in 2013, she won a grant to make a feature documentary which had an award-winning run at regional festivals.
Cimarron County (script available upon request)
The last time a hurricane tore through the swampland of Cimarron County, something unspeakable happened. After fifty years of calm, another storm approaches, and two women from different walks of life must protect their children and confront their grief, whether by science or superstition.
CONTACT: Lisa Long; Luke Maxwell, Tom Lassally, 3 Arts, (310) 888-3200; Lev Ginsburg, Ginsburg Daniels Kallis LLP, (310) 274-3210