Media Consolidation Hurts Writers — It's Time for That to Change
(8/13/2021)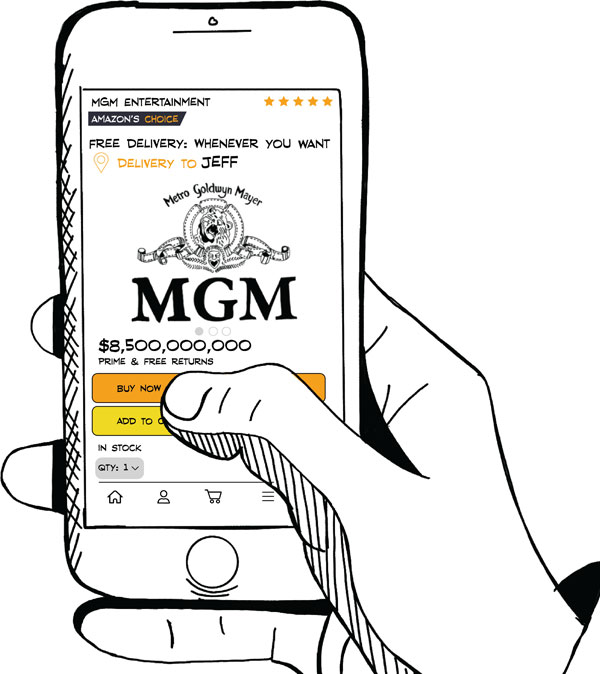 Fewer opportunities to sell your work, gatekeeping conglomerates, less risk-taking, unilaterally imposed deal terms—these are just some of the symptoms of an industry gripped by runaway consolidation and vertical integration. These are also reasons why antitrust policy is at the forefront of the Guild's political agenda.
Our largest employers—Disney, NBC Universal (owned by Comcast), ViacomCBS, and Time Warner (currently owned by AT&T), along with Netflix and Amazon—are vertically integrated conglomerates that produce content through their own studios and primarily distribute that content on their own networks or streaming services. As our major employers rely more and more on self-produced content, they're shortchanging writers in the process. Creators see fewer opportunities to shop their stories as streaming services are less interested in independent content. At the same time, it's increasingly difficult for new streaming services to emerge because, in order to compete, they need their own studio. Less competition for your work means more power in the hands of your employers to suppress wages, limit creativity, and dictate the terms of your deals.
For decades, media conglomerates have been allowed to grow and consolidate, with few obstacles or repercussions. In 2018, the Department of Justice let Disney buy its rival, Fox, making it the largest employer of WGAW members today. Disney then pulled its content off competing streaming services in favor of its own vertically integrated service, and started to push creators to accept new deal terms with no participation in future licensing revenues.
Rather than investing in original content, Disney focuses on existing IP it already owns, like Marvel and Star Wars, and limits more expansive development. Amazon's targeted acquisition of MGM is a continuation of the same trend as it attempts to expand its empire by adding a library of existing, valuable IP, while controlling content from production to distribution.
Meanwhile, AT&T has spent over $135 billion—not including debt—in the last six years on two failed acquisitions of DirecTV and Time Warner, trying to buy dominance instead of investing in organic competition. What was once 20–30 companies competing for writers' work is now a handful of media conglomerates and tech companies (Netflix, Amazon, Apple) dominating everything from production of programming to operation of streaming services and even the devices that allow consumers to access writers' content.
Permissive antitrust policy has allowed for the explosion in vertically integrated companies, but the political climate is finally changing. President Biden issued a groundbreaking executive order earlier this month, directing every federal agency to combat excessive corporate concentration in all industries, promote competition, and enforce the antitrust laws. He has appointed leading anti-monopolists to head the Federal Trade Commission and as antitrust chief at the DOJ.
This comes on the heels of a landmark investigation by the House Committee on the Judiciary Subcommittee on Antitrust, Commerical, and Administrative Law into market abuses by the dominant online platforms, including Amazon and Apple, two of our employers. Increased scrutiny of corporate concentration shows a growing understanding that current competition policy is failing workers and consumers.
With a broad recognition in Washington that something needs to be done about corporate concentration, the WGAW is fighting in Washington D.C. for antitrust reform and to make sure policymakers understand how vertical integration affects writers, our industry, and the content we create. We are urging policymakers to combat consolidation from every angle. Legislators should modernize antitrust laws to support more and better enforcement, and to explicitly protect workers and labor markets. Regulators should investigate concentrated industries like media and issue stronger guidelines for evaluating mergers. And lawmakers and regulators alike should oppose the Amazon-MGM merger and future harmful mergers like it.