Politics & Public Policy
The Fight for an Open Internet
WGAW screenwriter tells the writer's side of the story at a Sacramento forum on net neutrality.
(October 3, 2014)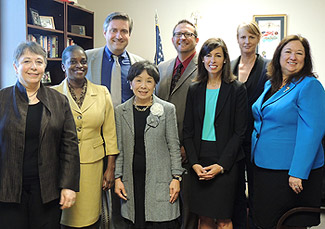 Photo: Nathan Dietrich
Front row, (L-R) Rivkah Sass, Commissioner Mignon Clyburn, Congresswoman Doris Matsui, Commissioner Jessica Rosenworcel, Catherine J.K. Sandoval. Back row (L-R), Chris Kelly, David Lowe, Melissa Rosenberg.
The WGAW took its campaign for a free and open Internet to Sacramento last month with the help of screenwriter Melissa Rosenberg (Twilight, Dexter), who testified on the potential impacts of net neutrality on content creators at a forum hosted by Democratic Congresswoman Doris Matsui.
The session, which enunciated the importance of reclassification of broadband Internet as a Title II communications service and the implications of FCC Chairman Tom Wheeler's net neutrality proposal, also featured testimony by Catherine J.K. Sandoval, Commissioner of the California Public Utilities Commission; Rifkah Sass, Executive Director of the Sacramento Public Library; David Lowe, President & General Manager, KVIE Public Television; and businessman Chris Kelly, founder of a Sacramento venture capital firm that invests in tech start-ups. Matsui was also joined by FCC Commissioners Mignon Clyburn and Jessica Rosenworcel in questioning the panelists about the impacts of net neutrality.
Matsui's forum was yet another expression of the consistent and ongoing opposition to the FCC's controversial proposal among a diverse coalition of interests, including content creators. The FCC received a record 3.7 million public comments filed in response to its proposal (more than double the number filed after Janet Jackson's infamous "wardrobe malfunction" at the 2004 Super Bowl). Some 1,200 WGAW members also sent a message to the FCC via an email link last month expressing support for an open Internet.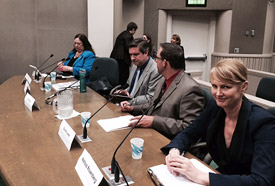 WGAW screenwriter Melissa Rosenberg (foreground right) prepares to testify on the importance of an open Internet for content creators.
In compelling testimony, Rosenberg described how media consolidation would choke creativity in the wake of weak net neutrality rules.
"I am a screenwriter and television writer/producer and have created stories about villains and heroes who are called upon to do fantastic things, sometimes the impossible," she said. . . . "Sadly, this real life story has much of the gore but none of the romance. At stake is the very ability of storytellers like myself to tell stories we want to tell, diverse stories that offer inspiration and allow viewers to tap into their own imaginations to express themselves. Right now, anyone can do it. All they need is an Internet. But that is threatened by the villainy of a monopoly of power and corporate censorship. The only hope for a happy ending is reclassification and the successful application of net neutrality."
Rosenberg also stressed the importance of a free Internet to women and people of color who are typically underrepresented in conventional storytelling arenas. "The open Internet provides a new opportunity to participate equally in the creation of stories for both our national culture as well as the global economy . . . To narrow the opportunity for them is to damage our cultural discourse, to limit our perspective of the world and understanding of our fellow Americans."