Politics & Public Policy
Political Action and Advocacy
With the future of net neutrality at stake and the proposed Comcast/Time Warner Cable and AT&T/DirecTV mergers looming, the WGAW has intensified its political and policy work in Washington. Members are testifying on Capitol Hill this summer and meeting with lawmakers to ensure that writers' voices are heard.
(August 4, 2014)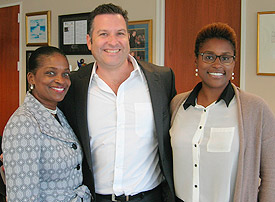 Photo: John Vezina
(L-R) FCC Commissioner Mignon Clyburn, WGAW Board member Alfredo Barrios and New Media writer/creator Issa Rae.
It is a critical time in Washington. With behemoth media companies trying to steamroll mergers through government regulators and the FCC deliberating over the future of an open Internet, the stakes are high and the outcomes portend critical opportunities – or constraints – for writers.
In response, the Guild has stepped up its efforts. In a multi-pronged approach to dealing with issues such as net neutrality, video competition and media consolidation, official comments are submitted to the appropriate committees and commissions, and writers are meeting with lawmakers and FCC officials and providing expert testimony at Congressional hearings.
In July, WGAW President Chris Keyser testified at a Senate Judiciary subcommittee on diminished competition and the constriction of outlets for writers if the proposed $49 billion AT&T/DirecTV merger succeeds. Three weeks later, The Shield creator Shawn Ryan testified on the negative impact of mergers and weak net neutrality rules on writers as well as consumers at a Senate Commerce Committee hearing examining the future of the video marketplace.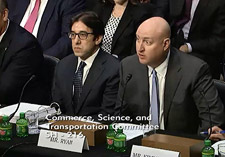 The Shield creator Shawn Ryan (R) testifies on the future of the video marketplace.
"It was kind of seminal," says Ryan. "To be in the Capitol and to sit in front of those Senators and CSPAN cameras and talk about an issue that's important, was very moving. You have one view of Washington, D.C. when you watch the news and you're aware of political things going on that seem outside your personal control. But the Guild has created an opening for writers to be able to go in and talk about aspects of this business."
Last week, WGAW Board member Alfredo Barrios (Burn Notice) and New Media writer/creator Issa Rae (The Misadventures of an Awkward Black Girl) made the cross-country trek to talk about an open Internet with FCC Chairman Tom Wheeler and Commissioners Mignon Clyburn and Jessica Rosenworcel, also meeting with Senator Ed Markey and Representatives Henry Waxman, Doris Matsui, Anna Eshoo and Zoe Lofgren.
The value of having writers articulate their concerns on Capitol Hill is that it brings home the impact of policy decisions in a real way that is sometimes lost in the bureaucracy of government proceedings.
"When writers meet with lawmakers or administrators and bring with them stories about the opportunities that flow from a free and open Internet or, on the other hand, the chilling effect of unregulated consolidation, they make vivid and real the implications of Washington's decisions on content creators (who are American entrepreneurs, after all), and on the viewing public and the marketplace of ideas," says Keyser. "No one can tell that story quite as well as writers can. And that can be a very powerful thing."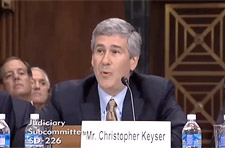 WGAW President Chris Keyser testifies at a Senate Judiciary subcommittee on diminished competition.
As WGAW members have become increasingly involved in making their case on Capitol Hill, lawmakers are gaining a better understanding of the pivotal role of writers in the entertainment industry. Even on the most basic level, for example, they have learned that writers, not studios, are the creators of content, and that the studios purchase and distribute it. In no small part, this shift is due to the WGAW's success in cultivating relationships with officials and their staffs so they fully understand how the industry works and thus the concerns and position of writers on various issues.
"As our profile has evolved more people want to hear from writers," says WGAW Political Director John Vezina. "We've built a reputation in Washington."
Having a Political Action Committee (PAC) also helps. Not only is the Guild now able to identify elected officials who are aligned with writers' interests but the PAC can provide them with campaign contributions.
In coming months, the Guild will be working even more with lawmakers and regulators as the FCC is expected to announce its decision on net neutrality rules by the end of the year.