Politics & Public Policy
WGAW Taps New Political Director
The WGAW's new Political Director brings to the job in-the-trenches advocacy, electoral experience and a deep passion for the issues that matter to writers.
(September 3, 2015)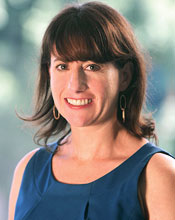 Photo: Dexter Kim
Corri Freedman
Corri Freedman, who served as associate counsel on the Guild's legal team since 2014, has been named the WGAW's new Political Director. Freedman brings to the job years of experience working in electoral politics, as Chief of Staff for Assemblywoman Joan Millman (D-NY) and other officials, and in issue-based advocacy as Director of Advocacy for the American Lung Association of New York.
"In Corri we have a unique combination of someone who has significant political experience in addition to a well-developed understanding of the issues facing the Guild and its members," says Ellen Stutzman, Senior Director of Research and Public Policy for the Guild.
A graduate of University of Southern California Law School, Freedman looks forward to continuing to grow the Guild's political program and engaging on issues that keep the Guild strong and create opportunities for writers. "While working in the legal department has been enormously gratifying, I felt that my background would allow me to make a bigger contribution as Political Director," she says.
In fact, with the Presidential election looming in 2016 and the "Cadillac tax" on health plans set to take effect in 2018, it's a critical time for writers' issues to be heard and addressed in Washington. Cultivating political relationships with elected officials who support our positions on media consolidation, free speech, independent production and labor rights, is an important part of building influence and "becoming a force," says Freedman. Ultimately this impacts legislation and regulations that affect Guild members.
"There's an opportunity now to build on the recent wins that the Guild has had on net neutrality and the Comcast-Time Warner Cable merger to increase our political influence. Decisions are being made, and we can't afford not to be involved," she says.
In addition to her work inside the Beltway, the new Political Director will be stepping up her efforts to communicate the importance of contributing to the WGAW's PAC, the donations-based fund through which the Guild contributes to candidates who support issues of relevance to members. With Congress attempting to weaken the FCC's recent ruling on an Open Internet, for example, electing the right candidates to advance policies that benefit our members has never been more crucial.
"If the next President doesn't support the FCC's Open Internet rules, or if Congressional support builds for legislation to overturn net neutrality rules," says Freedman, "the progress we have made towards increasing competition and creating more opportunities for writers may be stifled."