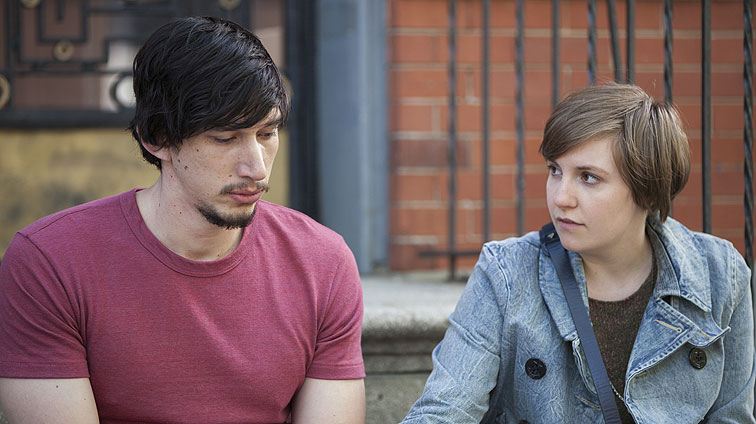 Lena Dunham's rocket launch into the pop cultural heavens has left a trail of both admirers and detractors in her wake, but love, hate, or envy her, the acclaimed writer-director-star of Girls has shown she's got skills.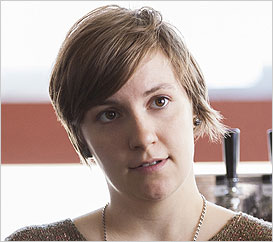 I definitely say the things that will hurt me before others can. That has always been my compulsion, and it can be both cathartic and a little defensive.
What's all the fuss about Lena Dunham? People say she's polarizing, but that seems a touch dramatic for a cutely frumpy, knowingly self-obsessed 27-year old New Yorker with a funny little show on HBO, right?
Is it that she's young to have created the hit show Girls, which from a blurry distance seems like a hipster comedy focused on the trivial neuroses of Dunham's alter ego Hannah, her three best gal pals and her weirdly buff, mustachioed boyfriend?
Or is it that she looks different than most leading female actresses on TV—not as impossibly svelte, with tattoos of childhood heroes Ferdinand the Bull and Eloise on either arm?
The fuss really comes down to this: Girls is not just a little show and Dunham is irrefutably an important new voice. Love her, hate her, or envy her, girl's got skills. She got herself where she is, which is a big thing on its own, but she's also winning the moment with an effortlessly fresh, increasingly deft, complex writing voice.
She first drew large-scale attention for her voice in 2010, when, after studying creative writing at tony Oberlin college, she wrote, directed, and starred in an indie feature called Tiny Furniture, in which both her real life mother and sister starred. It won the narrative prize at South By Southwest and got the attention of Judd Apatow, one of the exec producers of Girls.
The voice that Dunham has perfected on the show is amusingly OCD and very New York, but it's also jarringly brave and authentic. It doesn't cower behind pretense or pretty clothes. Dunham has gained notoriety—lovers and haters—for regularly appearing in varying states of her unvarnished all-together. It is emblematic of her unflinching writing style. Yes, the show focuses on trivial worries, but it also lays bare serious real ones with a heartbreaking candor that's central to her formula.
It should be said that Dunham owes some measure of her success to a double endowment from her parents: they are not only edgy, legit artists—dad a painter and mom photographer and visual artist—but they are both acclaimed, successful ones. Thanks to mom and dad, Dunham was raised in New York's rarified circles thinking, really believing on some level, that she could be a big, creative success by being true to her own voice.
Due to a genuinely crushing schedule crammed with an appearance on SNL, a new HBO pilot based on Betty Halbreich, the legendary personal shopper at New York's Bergdorf Goodman's, work on the new season of Girls, and finishing touches on a new memoir Not That Kind of Girl, which reportedly scored her upwards of a $3.5 advance (jealous anyone?), Dunham to responded to the Writers Guild of America West website's interview questions in writing.
So, from her bed after another very long day, Dunham touches on Girls, the effect her new schedule has had on her writing, and why never getting cast as the pretty lead in a high school musical helped give her a writing voice.
You said in a recent interview that when you saw Les Misérables as a kid it was kind of life altering, that you adored Cosette and wanted to play her, but at the same time felt like you never really could, that you'd have to take a different route. Is there a sort of emotional chip on your shoulder that has driven your brave, here-I-am voice?
I never got parts in the school plays. That's not a woe-is-me thing, just a fact. I loved theater and wanted to play characters besides a bouncing ball or an angry nurse, but I had a shrill voice and a strange manner. I had the sense that if I wanted to perform I would have to create the roles. Cosette was a beautiful fantasy, an elegant girl who the world had been cruel to. Those parts were not my lot, but I can still appreciate them.
How much has growing up with people who had the audacity to make a success of artistic expression emboldened you to do what you've done—or has it made it more of a challenge in some ways?
My parents made a life as an artist seem both possible and challenging, and that was a perfect balance. I trusted I could do it, but was also prepared for the inevitable rejections and droughts that characterize a creative career. I feel so lucky that they led by example.
When, where, and how do you write—paint me a quick pic of the viscera of your writing process?
I write in bed, on planes, in vans. I wish it was at a gorgeous desk with a cup of tea but it's often hurried and compulsive, especially when I'm mid-shoot. I love getting up early and sitting down at a sunlit table to wrangle my thoughts—it just rarely happens. Even these questions are being answered from bed after a long travel day!
Has the success of Girls and the work on your forthcoming book made you a more disciplined writer?
Certainly—the constant deadlines have forced me to give up the myth of "the muse" and just write because writing is what I do.
You've said you put "your most shameful" parts on display in Hannah to excise them. In a way, do you use your willingness to "go there" as a means of gaining control and therefore, ironically, protecting yourself? Can you illuminate or dismiss this notion?
I definitely say the things that will hurt me before others can. That has always been my compulsion, and it can be both cathartic and a little defensive. A scary thing [is] when someone thinks of the insult that I haven't already claimed! I feel I have been growing out of this tendency a bit, becoming a bit more earnest in my approach. That's scary too.
© 2014 Writers Guild of America West