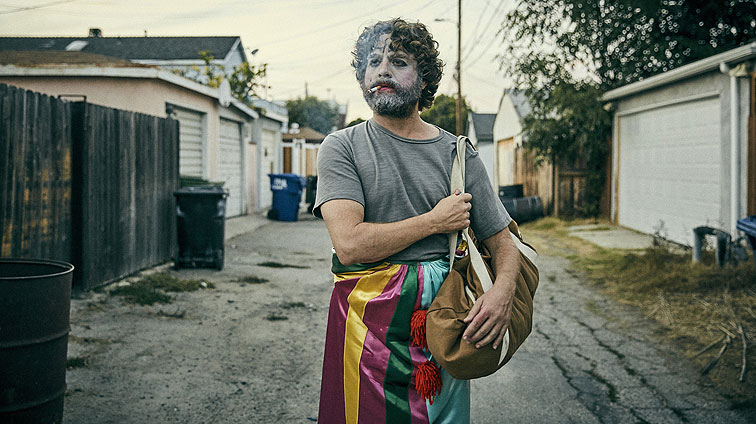 Jonathan Krisel dishes on collaborating with Zach Galifianakis and Louis CK to create the surprising, Emmy-winning Baskets, and why, when it comes to the writers' room, cooler heads shouldn't prevail.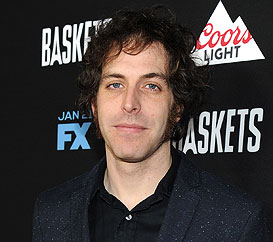 I never think of the script as the finished thing. That's what is important. To me writing is editing, writing is improvising.
For those who have not seen the somewhat below-the-radar FX comedy Baskets, now in the midst of its sophomore season, you're missing what you'd expect from a half-hour comedy starring Zach Galifianakis as a clown from Bakersfield, but you're also missing things you wouldn't.
Created by Louis CK, Galifianakis, and Portlandia and Saturday Night Live vet Jonathan Krisel, the show bowed last year with a slow burn from a broad comedic premise: Chris Baskets, a clown who's only funny when he doesn't mean to be, returns home after a rocky tutelage at a French clown school to pursue his dream of a career in the revered art of clowning. Krisel, who runs the show and directs the lion's share of episodes, explains that from the jump, the writers countered this easy, broad premise with emotional reality and the kind of tiny moments that often propel real life to make something deeper, darker, and funnier than the logline would presage. The actors and writers together have shaped these characters in unexpected ways, most notably Louis Anderson's revelatory performance as Baskets' mother, Christina, which starts as novelty—Louis Anderson in drag—and very quickly becomes something much more. Though the show's first season largely went unnoticed, the performance by the mainstream '80s stand-up and game show host, earned Anderson an Emmy.
Krisel spoke with the Writers Guild of America West website about how he and his writing staff have attempted to blend a broad premise with, at times, heartrending reality, how he still considers his brand of comedy an art project, and why, for him, a script is a living thing until a completed episode has a transcript.
To start, I've gotta ask, who wrote the presciently brilliant line, "I don't think clowns are needed that much since the world has become so clownish," from episode one of this new season?
That's Zach's line. There was some version of it in the script, but he came up with that. Obviously, he's a great stand-up and Zach is heavily into politics and monitoring what's going on in the world. From an absurdist point of view, things are getting pretty laughable. So yeah, that was a nice way to sum it up.
And you shot that before the election, near the time he did Between Two Ferns with Hillary Clinton, yes?
He had just done Between Two Ferns, and Trump was trying to get on Between Two Ferns still, so Zach was in this power seat, this weird position on this absurdist show that politicians are trying to get on, which is really weird. But Trump doesn't get the jokes, so he's not doing Ferns.
From a writing standpoint, how are things different in season two?
At the end of season one, we had a big cliffhanger with Chip getting on the train and heading out of town because he can't figure out his place in his family and society. He kind of gives up and runs away. When we started writing season two we said, "We've got to deliver on that. We can't go the sitcom way of, 'Well, never mind.'" We had to really play it out…we left a little bit of a placeholder [in that] we knew he was going to go to jail in the end of it.
Those first couple episodes were really hard to figure out. It was almost like doing a new pilot, with us building new characters and not leaning on our awesome cast—we had to make something that could set in motion the season and deliver the storyline of Chip running away.
So you had to do some actual logistical work—to get from a Point A to a Point B narrative-wise?
Yeah. That first episode in season one was incredibly challenging. In a sense I had to go write in by myself. We came up with so many ideas and this show is not a typical sitcom—it's moving fast in terms of plot and time and location. It's a whole new world and so it was a scary endeavor. We knew the audience wanted to see Christine and Martha—those are the really funny people. But we had to deliver on this and then come back [to them more]. The first season was a lot about his time in France, what happened. We had some flashbacks of how it was weighing on him. Well, now we have the chance to do that in the present, we have a chance to have something happen that we can unpack throughout the seasons and see how he changes and his mom changes as a result—let's see that happen and then we have the rest of the season for people to deal with it. That was the exciting part about it.
You obviously have a sketch comedy background, so this must have felt a little like a maiden voyage in episodic plotting?
Yeah. I mean, the first season was. In the second season, I'm not fully a virgin coming into it, and we've done a lot of figure-the-story-arc-things on Portlandia. But, yeah, I definitely had no skills or experience in how to do television correctly, so I kind of just made it up. And I have a great writing team that comes from a wide range of experience. We're just trying to make something that we really enjoy. My goal in the writing is always to set up Louie and Zach and Martha to just deliver on how great actors they are and how funny they are.
I come from a very art-project-to-get-to-comedy place, very Portlandia, very outside the system and outside the norm of what comedy is. I treat everything like an art project. "We don't really know what we're making, but let's explore it and be open to it." Then we brought in Sam Hunter, who is a playwright. So he has a lot of experience—he teaches writing, and he writes a lot of plays. Plays are so stripped down and leaning on the writing. I'm a director as well, so I tend [to say], "Let's not lean on dialogue, let's lean on more visual things." Then Graham Wagner, who comes from Canada and worked on The Office and on Portlandia, he's [also] worked on sketch, but has some sitcom experience, too. So it's a great team to try something really crazy, because we're like masters of our own domains coming together to make something great. It's very different.
Louie Anderson is obviously a revelation here—as a showrunner I'm sure you had some anticipation of this. But how amazing has it been to see a supporting character unexpectedly become so powerful?
It's been really cool to watch this character, this mom, be such a breakout thing that people really latched on to. It's because we started with our protagonist being this really difficult, tortured guy, who you never really know what he's going to do. People were a little put off by Chip Baskets' character as a protagonist, like, "I don't know what this guy is going to do, maybe he's going to be mean to his mom and friends, or maybe he's going to be really sweet and nice and not damaged." So amongst the chaos of this show is this woman who's like every mom. She's dealing with her difficult kids—she's this very relatable, normal force with this amazing performance by Louie, and that's your typical protagonist for the show.
Except it's Louie Anderson playing a woman.
Exactly. But the character is a little more typical of a protagonist.
Totally.
I looked at shows like Breaking Bad. I think it was in the fourth season where Walter White, who was the protagonist, this guy making weird choices to save his family and dealing with bad people, but by the fourth season, he was bad, he had gone completely bad, and he was almost the villain of the show. We kind of reversed roles and said maybe for season two we can sort of shift the protagonist a little bit and make it Christine Baskets. It will still be Chip's thing, but it's really this family that we pivoted.
So she's obviously become more central in this second season, but even when you were working with him and shooting it, before the public responded, did you think, Holy shit...
Yeah, it's amazing. In the first season, there wasn't that much Louie but we all thought, Oh my god, this is amazing. The second season, with the Emmy coming and people responding, he really brought a lot. We wrote a lot more intense stuff. He came at it with very little ego—he loved the character, which helps so much. Definitely, there were numerous times on the shoot where I went, Holy shit, this is so cool! This is so funny, so honest. One time there was a scene we had written—this is in the ninth episode—and I kept saying, "I love this scene so much. It's so small, it's so nothing, but it's just really moving." And I thought this can be a great scene. I never talked to Louie about it, but on the day of the shoot, I said, "Louie, this is kind of a really big scene," and he goes, "Oh, I know, I know." And I said "Well, you know, Christine might cry in this scene," and he goes, "Oh I'm prepared." The first take of the scene was the most amazing performance—thinking about it now I'm getting choked up a little bit—he just really nailed it. He's a beautiful soul of a person.
And who knew he was such a powerful dramatic actor?
He talked to me about it in the very beginning, and said, when Louie CK had called him and said, "Do you want to do this?" He was like—he knew my work and he'd seen Zach's work—he said, "You guys are doing this new type of comedy. When he came up in the '80s, there were big, broad movies and everything was much more broad, and he's been trying to pitch things and do things over the years [to show people], "Hey, I have this other side of myself. I know I'm this big room stand-up comedian, but I have some darkness and things I want to explore." This was his chance. He understood what this new comedy was. It's like he's been preparing his whole life.
From a comedy writing, or just writing standpoint in general, what did you pick up from Louie CK creating this show with him?
Louie is very inspirational just in his work. He asked me if I liked writers' rooms and I said actually I do because the ones I've been a part of are so non-traditional and I like the camaraderie of it. He had worked on numerous shows, and he said, "I don't like them, but whatever you want to do, it's your show. But one thing I don't like is when you're in a writers' room and someone comes up with a crazy idea and everyone laughs, and then cooler heads prevail and say, 'But we're not doing that.' I just don't like that. You have to do those ideas."
I said, "Oh yeah, that's what I've always been doing." Because I've been working in the fringe cable universe, so I knew what he was talking about. For Baskets it's not that the ideas are so outlandish, we try to do the ideas that you say, that's so small that would never be worthy of a dramatic comedic world. I love the tiniest, smallest, realest moments.
When you are in a free environment that Louis CK was talking about, is there some kind of boundary on the other end of the spectrum so you don't do outlandish stuff for outlandish sake?
The show is dealing with so much restraint. Reality is the boundary. It has to feel real. So that means if we come with a very broad idea—the whole premise of the show through the first season is this guy who's a clown in real life but not [when he's performing]. Which actually, if you saw the reality of a clown, it's a tragedy because when you're falling it hurts...So that's sort of my boundary; let me do a broad, slapstick comedy, but it has to feel extremely realistic. That limits you in a lot of ways, but it's very fun to have those boundaries. You're right, when you can do whatever you want, that's also hard to work with—it's too open.
We think of the emotions too, because it's structured as a drama, the emotions have to work. That's something Zach said from the very beginning. He said, "If you guys can just write it so the emotions ring true, I can add the comedy to that. But if it's false emotions and false comedy-logic, it's not going to work." So we try to put real feelings and real things into it, which is what real life is like. Then just put the comedy amongst that. You know, some of the premises are comedic, but…
There's also a lot of emotive, real stuff going on.
Yeah. For this project, this is a fun tone and a fun world. Not everything I'm going to do is going to be like this, but I really enjoy it. I know it's pretty challenging for an audience because you don't really know, am I going to laugh or am I going to cry? What are you doing to me? It's a little bit painful at times. But for this show it's just very fun to traffic in both worlds of comedy and drama.
So for the first two episodes of this you had to go off by yourself and figure out how it was going to work and write it yourself, and bring then it back to the room?
Yeah, for the first one. The second one, we kind of knew what it was going to be. It was just the first one, trying to crack it, because it's kind of a stand-alone episode with Chip really in this tangential universe. We had to create new characters—some that will come back—but you're not leaning on your core cast, so it was really challenging [to write].
When you are Writing writing with a big W, and you're doing it by yourself—where, when, and how do you do it?
I love coffee shops, I started that long ago, and it's good—it takes me back to study hall. You feel good about being in public, and it's time to work. Being at home is very challenging, but I do it late at night. My wife, who works on the show too, is extremely helpful. I almost consider her my writing partner in a way. She can speak to me like a writing teacher and say, "You need this, this is what you need for the scene." And then it becomes like, "Yes, okay, now I can write this." So it's nice. We work a lot together developing stuff and she comes into the writers' room as sort of a control, 'cuz she was an executive and she can just help shape things. For me it's very challenging because I think so visually as a director. I try to train myself not to write that way…When you write too many stage directions and all that shit, it's so annoying to read. It's like, "We'll add that later, just go for the bare minimum now." Just get the characters working and come out of the director [mindset] for a second. I had to train myself to do that.
When you are either hopelessly unfunny or uninspired, do you have any tricks or techniques for snapping out of a block?
Like a writer's block kind of thing?
Writer's block or funny block. Either one.
For me, I think of the whole process as filmmaking and not as writing being the final thing. To me, sometimes you get the scene and it's not great, but you know it has to get you from point A to point B. Because I'm also the director—and this has happened a million times on this show specifically—if I don't think that the scene is funny enough, I think of performance and I think of costumes or location. There are so many different avenues you can explore to make it great. It's not just the words on the page. You add different layers as you go, so that you're constantly adding to it. You never say, "Well, the script is the script and then we just do it and we're done." It's a constantly changing thing.
That must relieve some anxiety, understanding the power of those other phases?
Sometimes we get to the end and you've explored all those other things—the location, and the costumes—you've looked at everything, and it's still not there, you have to rewrite it. But I never think of the script as the finished thing. That's what is important. To me writing is editing, writing is improvising. There are so many things to get to the finished product, because this is filmmaking. If I was writing a book I would be much more petrified, but this is filmmaking—it's one part of it.
So the writing is step one?
Yeah, it's really step one. The script is alive. It's not done until they do a transcript. You only wrote it two days before you shot it, it's not the Bible. You can revise yourself constantly until the last second, because you've got some time. You have to keep perfecting it.
© 2017 Writers Guild of America West