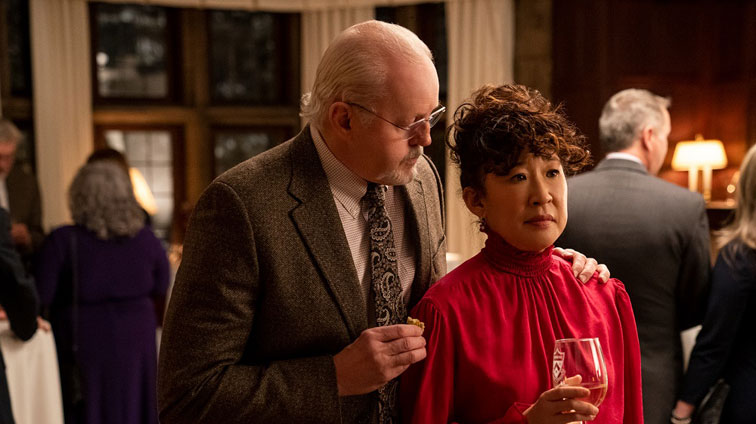 Amanda Peet steps behind the camera to co-create the Netflix hit, The Chair, and reveals how a cartoon helped her overcome her insecurities as a writer.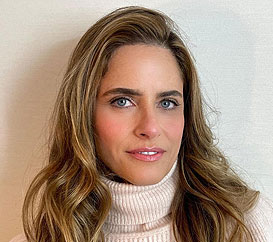 You have to be willing to be bad to be good. It took me many, many years to accept that, and embrace that, and have days or weeks on end during which I would feel like a total imposter/failure/hack, and then to keep stepping up to the plate.
Amanda Peet describes her 14-year-old self as humorless and filled with "teenage girl sadness." Her mother, a social worker training at New York's psychoanalytic research center, IPTAR, nudged young Amanda into therapy.
"It probably helped me become a writer later," says Peet, about her lengthy psychoanalysis.
Luckily, somewhere along the way, Peet regained a sense of fun, which is amply on display in The Chair, an academic satire she co-created with Annie Julia Wyman. The six-part series stars Sandra Oh as Korean American Dr. Ji-Yoon Kim, the first female, and first person of color, to serve as English department chair at the fictional Pembroke College, a brick-and-ivied bastion of white male privilege.
Once ensconced, Ji-Yoon finds herself trapped between the generation once considered progressive, and the social media generation which views the older faculty as hopelessly out of touch. Indeed, their lectures attract a mere smattering of students, and despite attempts by the long-suffering professor Joan Hambling (Holland Taylor) to make Middle English sexy, her office has been moved to the basement.
Battling an administration bent on forcing retirement on the Old Guard (Bob Balaban and Ron Crawford also star), Ji-Yoon is caught up in a compromising, will they/won't they, relationship with a self-destructive mess of a widower colleague (Jay Duplass).
In a subplot, the school wants to remove a distinguished lectureship from a brilliant Black professor, Yasmin McKay (Nana Mensah), and bestow it on celebrity novelist David Duchovny, who plays a deadpan, pompous version of himself.
"I feel like someone handed me a ticking time bomb because they wanted to make sure a woman was holding it when it explodes," says Ji-Yoon.
Wrapped up as a rom-com, and filled with bountiful slapstick, as well as Chaucer, Dickinson, and Melville quotes, The Chair tackles not only ageism and racism, but sexism, cancel culture, interracial adoption, and knee-jerk wokeness, among other hot button issues. Upon its August debut, it vaulted into Netflix's top 10.
"I almost keeled over when I saw that. I'm serious," says Peet, who has a self-deprecating streak. Repeatedly rejected by Columbia University's theater program, she became a history major, took writing courses, then abandoned writing when she started working steadily as an actor. Known for film roles in Something's Gotta Give, The Whole Nine Yards, and Syriana, Peet is equally recognized for TV's Brockmire and The Good Wife, and for portraying Betty Broderick in last year's Dirty John.
It wasn't until 2013 that the off-Broadway Manhattan Theatre Club mounted her play, The Commons of Pensacola, with Blythe Danner as a Ruth Madoff-like figure, and Sarah Jessica Parker as her daughter. In 2018, Mamie Gummer starred as an ambitious tennis mom in Our Very Own Carlin McCullough, at Westwood's Geffen Playhouse, leading Entertainment Weekly to describe the drama as "resounding affirmation that Peet's auspicious debut…was no fluke." The Chair is her first television script, and the first production from Peet's husband, David Benioff, and his Game of Thrones co-creator, D.B. Weiss, under their Netflix deal.
In an unusual move for a Hollywood figure, Peet placed her own phone call—without a PR intermediary—to the Writers Guild of America West website to talk about The Chair.
Tell us how The Chair came about. You co-starred with Jay Duplass in HBO's Togetherness, and I understand you were working on a script for him to star in when you realized you could fuse two ideas.
I was working on a movie idea with Jay that involved a widower, and then at one point, he suggested that this widower has an affair with his boss. There were a lot of news stories around this time about incidents in academia, in which professors were getting into hot water for various transgressions, and so I just became really interested in the idea of women in positions of power. I became interested in the idea that empathy is a hindrance to leadership, because it makes you take in the backstories of the people who work for you.
Can you expand on that?
Some people find that only leads to waffling, as is the case with [President] Obama's foreign policy, for example, but I see it as a strength. You can't foster inclusion, and you can't foster the idea of reparations, unless you're interested in what you don't know. I was thinking men are more inclined to assume they have the whole picture; women are more able to admit there might be factors at play that are covert or otherwise hard to pinpoint when you're running a company, or supervising a company, or if you're head of state. Just to be clear, I think that empathy is a leadership quality. I don't really agree with the idea that women should lead like men.
So how did the script evolve from there?
We were trying to explore the idea of a single mom who's forced to choose between her work and her love.
And you were already interested in another idea set in academia?
Yes, at that point, I had started interviewing a lot of professors and talking to them about what it's like to be in an English department for many years, and it seemed akin to any family drama I've ever read. It was very important to me that the school [in The Chair] felt like one of those small New England colleges that still smacks of rich, white elitism.
You were a history major at Columbia, right, so you weren't drawing on any past college English department experiences?
No. I probably had imposter syndrome when I was a student. I don't remember the exact moment, or whether it really was indeed a moment, or whether I sort of marinated on it over the course of a few days, but before I knew it I was calling professors and asking people if they knew anyone in academia. I just started interviewing, before I'd even written that much.
How did you end up working with Annie Julia Wyman? Was she one of the academics you interviewed?
Yes, She told me she also was dabbling in TV, so then I asked to read her script, and her script was brilliant. So I asked her, "Do you want to just collaborate?"
Are you a whiteboard writer or Post-its on the wall kind?
Well, I should be. I have to be forced into it. I collaborate with people who are experts. Richard Robbins basically ran the room with me as I've never done that before. I try to structure everything, but it's my weakness. So Mark Duplass and Jay Duplass taught me that it's okay to have what they call a diarrhea draft, and the diarrhea draft is the thing that you spit out. Usually, it's dreadful. In my case, it always is. The rest is editing. My whole family, we all watch this show called Adventure Time. It's a cartoon, but we have a huge poster. There's a dog in the cartoon who is saying to the human, "Dude, sucking at something is the first step towards being kind of good at something." So that's sort of my mantra on writing.
It's a great mantra. You're a playwright, but had you tried your hand at other TV scripts before this?
This was my first time trying TV. I was scared by something that didn't all take place in one room.
You were showrunner. What was that like as a first-timer?
I was very angry at my husband, actually, that he didn't warn me how stressful it is. But he said that he thinks having a partner made it much easier, because he always worked with a partner. He told me, "There are going to be 100 balls when you're up at the plate, and you just have to try to hit a couple of them; you're not going to hit all of them." He said something much more eloquent than that, but the gist of it was just like, "Do what you can."
You've spoken about having a voice as a writer, when you often feel you don't as an actor.
I'm sure, like a lot of women, I have a fear of being seen as a diva, and so that probably drove me into silence, for better or worse. There were probably times, over the course of the last 25 years, when I've had a good story idea, but I have kept it to myself because I'm afraid to be a squeaky wheel.
Were there any scenes in The Chair that were particularly hard to write?
There wasn't really anything that was easy. One thing that's a massive advantage when you're coming from the world of acting is that you aren't afraid of actors, and you want them to speak up, and half of my actors are writers. Jay Duplass is a writer, Bob Balaban, Holland Taylor. So I robbed them all day of their ideas and put them in my script—and then took credit for them.
Because the show's a complicated brew of social issues, romance, and pratfalls, I also wonder how you settled on the tone.
If you've seen PEN15, my director, Dan Longino, helped launch and was the director of that show. It's a tone that I'm very attracted to. Usually, I find the things I'm attracted to have a little bit of everything. So, I went after him so that he could help me keep the line taut.
Did you have anything firmly in mind when you started to write, but then felt you should shift direction?
[Spoiler alert] When I told my husband that I was thinking about having Joan become the chair at the end of the show, he said, "That's a terrible idea." Usually when he says that, he's right, but I persevered. I probably didn't show it to him until I had multiple drafts and I was quite sure that I had kicked the tires. Normally, I share with him quite early on.
David Duchovny is extremely funny playing a pretend self, rising from his swimming pool in a red Speedo, like Mulder, in that iconic X-Files scene. How did the idea of his vapid but egotistical character come up?
I stole it from the movie, Broadcast News, one of my favorite movies of all time. It's a romantic comedy, in which I really enjoy my own shifting allegiances over the course of the film. So even though William Hurt's character is a dunce, I found myself rooting for them to have sex, and in any event, I think about that movie a lot, and so that's where it came from.
You had Sandra Oh in mind from the beginning, then you read your script to Sarah Paulson, your best friend, who introduced you, right?
I don't have social media, so sometimes I use Sarah for her social media. I think she DMed Sandra. I'm not sure if that's the right term, because I'm so old, but I'm fairly certain she DMed her, or did something privately, that was somewhat public but also private, to let her know that I was chasing her.
So Sarah liked it when you gave it to her to read?
She often reads my very, very early diarrhea drafts with me. She'll come into the driveway, and in order to hide her from my kids, I'll go out and get in her car and read with her. It's a little bit like a drug deal. It's very suspect. By doing that, I learn so much, very quickly, and then she drives away.
Sounds like fun.
Except for when I realize what I've written is dreck, and it's not as fun.
Do you have any overall feelings about streaming television, versus weekly appointment television?
There's something very nostalgic and romantic for me about appointment TV. I remember, in the '80s, I lived in London, and my father had a tiny, tiny TV on his bedside table. It was the size of half of a shoebox. I think it was Thursday nights Dallas was on. That feeling of rushing to get out of the bath, get your homework done, get your school clothes or uniforms picked out for the next day, get them laid out, and then get on to the bed, in position, ready, ready, with hair brushed, teeth brushed, by the time you heard [she breaks into the Dallas theme music]. Anyway, it fills me with nostalgia: that panic of trying to make it, so you could get there for the opening credits, and the music, and the song. That's very special to me.
Any advice for other writers?
The quote from Adventure Time and the poster that I have was really helpful to me, and I looked at it every day. You have to be willing to be bad to be good. It took me many, many years to accept that, and embrace that, and have days or weeks on end during which I would feel like a total imposter/failure/hack, and then to keep stepping up to the plate. Take the shot.
© 2021 Writers Guild of America West