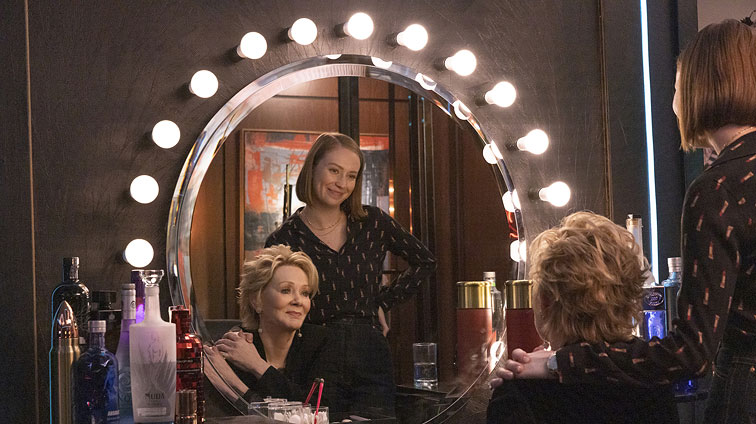 Hacks co-creators Lucia Aniello and Paul W. Downs on how their improv background informs the HBO Max comedy's writing, season two's cliffhanger finale, and what to expect in season three.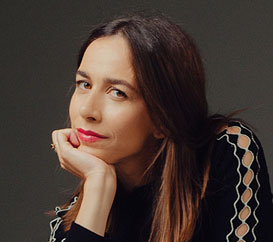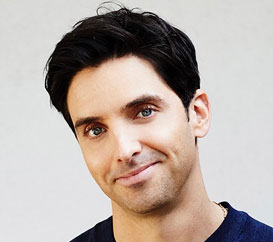 The major tenet of improv is 'yes, and.' The idea that you're listening always to your partner, and agreeing with them. You add on top of that and that's how you get to a scene, the good scene.
During season one of Hacks, the HBO Max series created by Lucia Aniello & Paul W. Downs & Jen Statsky, 70ish comedian Deborah Vance prepares for her final performance at Las Vegas' fictional Palmetto Hotel. Should she wear flashy stilettos or lower heels, she wonders. The lower ones, someone advises, saying, "The pain's not worth it."
Deborah wears the stilettos anyway. Wounded by life and her fading superstardom, for Deborah (the remarkable Jean Smart), comedy and performing are worth the pain. And in this performance, ignoring the comfort of low-heeled shoes—and of her familiar one-liners—she begins to bare it and starts to revive her career.
This happens because she has hired 25-year-old Ava Daniels (Hannah Einbinder), a TV writer fired over an impulsive tweet. Ava's role is to bring a youthful edge to Deborah's dated material, while working for Deborah could mean salvation for the smug and entitled, but unemployable, Ava.
The two butt heads, and the result is a perfect odd couple framework for a dive into the nature of comedy, from yesterday's rat-a-tat punchlines to today's confessional stand-up. Accompanying the jokes is a look at the gender politics and ageism of the comedy world, the joy of collaboration, and the ruthlessness of ambition. "You're just like me," Deborah says to Ava. "You're as selfish and cruel as I am."
Aniello and Downs (who plays Ava's manager) met taking improv classes at the Upright Citizens Brigade; then Statsky, Aniello, and Downs worked together on Broad City. Now the three share showrunning duties.
Much lauded, Hacks won the 2022 Writers Guild Awards for New and Comedy Series, plus three 2021 Emmy Awards: for Aniello, Downs, and Statsky for Outstanding Writing for a Comedy Series; Aniello for directing; and Smart for acting. This year, Hacks is looking at 17 Emmy nominations, including an Outstanding Writing repeat for the partners; Aniello again for directing; and Hacks for Outstanding Comedy Series. Aniello, Downs, and Statsky also just landed a Hollywood Critics Association Award for best writing in a comedy streaming series, while Aniello won for streaming comedy directing.
Aniello and Downs, who are married, spoke to the Writers Guild of America West website about how their improv background informs their writing, season two's cliffhanger finale, and what to expect in season three, as their 5-month-old baby boy, a regular in the virtual writers' room, gurgled in the background.
(Spoiler alert: The following Q&A contains key plot points from season two of Hacks.)
Did you worry about pitching a series about a 70ish woman?
Paul W. Downs: In some ways you're like, "I hope networks are interested in this," but it was so great when we pitched HBO Max that Suzanna Makkos, who's our executive, instantly understood it and was like, "Oh, have you read Lauren Bacall's autobiography? Have you read Debbie Reynolds' autobiography?" She just knew the touchstone kind of archetypes of this type of a woman.
How did you craft the season two finale. You're showing the growth in these two women, who began as antagonists. Now Deborah has renewed success, thanks to the partnership with Ava, yet she fires her because she wants Ava to achieve on her own.
Paul W. Downs: We didn't want the audience to be angry at Deborah. We wanted it to be altruistic, because it is, but also her psychology has to be a factor. And Ava speaks to that. She says, "I know what you're doing. You're pushing me away because you're afraid." Because Deborah's a lone wolf, she's a shark. And in finding this partner who is so well-suited and such a great match, it's a scary thing. Because this scene is one that we knew was going to be pivotal, and it's the climax of the episode, we also wanted it to be reflective of the tone of show, which we hope is hard, funny, and has jokes. Maybe the biggest challenge was the order in which the information was laid out.
Lucia Aniello: Big picture-wise, we wanted all roads to lead to that scene, but also for the audience to not see it coming. And that's the real sleight of hand, for the audience as soon as it happens to go, "Oh my God, of course." But also to be like, "I didn't see it coming." Also, that's probably true for Ava. I think she is, in knowing Deborah, that this would be the moment where this would happen, but she's fully blindsided. In terms of crafting the scene, there are turns where Deborah says that Ava doesn't believe her, then Ava starts to believe it.
The one shift we made, which felt good to us, was eventually Ava says, "I want to be wherever you are," which is the most vulnerable line. Initially, we had that a little bit earlier in the scene, but it felt like that was something we had to get to. The title of the episode, "The One, The Only," is obviously when people introduce Deborah Vance, she is the one, the only, but also she's navigated most of her life alone, especially after the trauma of her husband leaving her for her sister. Now she's had this new relationship where she has a partner again, but she just feels like the best thing she can do is to not continue with her. And so she is relegating herself to be the one, the only yet again.
There's so much subtext here.
Paul W. Downs: I hope the viewers pick up on something that in writing, is an action. We wanted to reflect the finale of season one where Deborah slaps Ava. This time we have a similar gesture in her just putting her hand on her cheek. We consider Ava and Deborah mirror images of each other, and they really reflect their best and worst qualities back to each other. So in doing that mirroring, that was one of the things that we wanted to bring out.
How do you write together?
Lucia Aniello: The major tenet of improv is "yes, and." The idea that you're listening always to your partner, and agreeing with them. You add on top of that and that's how you get to a scene, the good scene. Because that was the initial way that we met, we did have a really good foundation. Sometimes when you come from more of an individual art, such as stand-up, it can immediately put you in maybe a little bit more competition. In terms of our actual writing process, we don't sit together and write out each piece of dialogue. We break the story, and the outline, and all that together, but we actually each write the exact same scene. And then we switch. I read his, he reads mine, and I highlight my favorite parts of his, and he highlights his favorite parts of mine. And then we combine the scenes. It's weird how they almost always just fit together. It gets you to write it out quickly, and not to be too precious.
Paul W. Downs: Sometimes when we have the same joke, we know it either absolutely has to be in the script or it's definitely low hanging fruit and we cannot use it. But we try to make it all about positive reinforcement.
In comedy, how much is instinct and how much is craft?
Lucia Aniello: It depends. Sometimes we'll be like, "We know that there's this theme. How do we go about exploring that?" Or sometimes we're like, "Isn't this just a funny little idea?" And then we'll build around that.
Paul W. Downs: Sometimes a line of dialogue can be the genesis for a scene. But I do think it's a lot like what happens in episode six of season two, "The Click." Deborah is a craft person. She works, and she writes jokes, and she tries to beat a punchline. In that episode, being on stage, she follows the fun and it completely changes. She goes off book, and it gets better. She realizes the thing that she needs to do. And she's told by the audience. Because we really are students of comedy, we come at it from a craft perspective. And then when we get on set, because we're also coming from the world of performing, it has that same dynamic that it then can change. We try our best to follow the fun, and you do that in a writers' room too. It'll be like, "Oh, this is the thrust of the scene." And then somebody says something funny, and that mistake or that joke you weave into the tapestry of the scene, because it's like, "Oh God, that's now got to be a part of it."
Lucia Aniello: There's a good reason we spend tons and tons of time refining those scripts so they're what we want to shoot. Still, 95 percent of what we write is what ends up—maybe more—ends up on screen. But those little spontaneous moments, we are also really excited to have as well, because you never know until the very, very last moment it gets uploaded to the server how you can improve it.
Deborah and Ava separating at the end of season two shifts everything. What can you tell us about season three?
Paul W. Downs: One thing we're exploring now, when two people have been in a creative collaboration as writers, what is it like now to do that solo? How does that impact their experience? The cliffhanger is how and when—if, how, and when—they'll get back together. But one thing that we're really exploring is what it means for someone like Deborah, who is in her late 60s, early 70s, to have a second 15 minutes, another moment in the spotlight, because her special has succeeded, thanks to the help of Ava. It is exploring what it means to be a creative person and to have a second wind.
Do you have any writing quirks?
Paul W. Downs: We like to listen to soundtracks from other film and TV when we're scripting. We email each other. All three of us at 4 a.m. will get an email and the subject line will be "jokes," but it doesn't mean jokes. It just means this is a way to search your emails. And it's a line of dialogue or a scene idea.
Lucia Aniello: I also really like watching soccer when we're writing. Sometimes English, sometimes Italian.
Paul W. Downs: I always have some addiction that'll be my treat after I finish a scene. Right now, it's Keto Cups, almost like Reese's Peanut Butter Cups, but coconut butter inside. Before, it was Honey Mama Bars, which are amazing.
Anything you'd like to say about Hacks that we haven't asked?
Paul W. Downs: With what's going on in our country, it's pretty remarkable to us that people have connected with it. It's meant a lot to Jean, especially, and Hannah, and all of the people in our cast, because our cast is also a very diverse group, that people have connected, and that they're getting to tell their stories. Hopefully, the more people that can empathize with a 70-year-old woman and a queer younger woman—if we can engender some empathy in this country—that isn't a bad thing.
Lucia Aniello: The show is about these two writers. It's about them writing material, and workshopping material, and the love that comes from that collaboration, and how for both of them, it is like a love language. The reason that resonates for us is because it's the same for us. Writing with people that you love and making the work better through that love language is like the greatest love of our lives. That's why we're in love with each other, and we love Jen so much, because at the heart of it, the greatest love we have is writing. And that's just the truth for us and for our characters.
© 2022 Writers Guild of America West